Georgetown Wet Weather Treatment Station
The Jacobs-designed Georgetown Wet Weather Treatment Station earned recognition as Washington's first Envision® Platinum project. Here's how sustainability serves as a central theme throughout the project, which incorporates 3D models and VR, green infrastructure, renewable energy generation and more.
King County, home to the notoriously rainy Seattle, is one of the Washington state counties most vulnerable to projected increases in sea level rise from now until 2100. The first of eight capstone projects that will complete King County's four-decade work to control the combined sewer overflow that still occurs, when wet weather hits, in parts of Seattle where sewer lines were installed in the early to mid-20th century – the new $250 million Georgetown Wet Weather Treatment Station (WWTS) will help proactively prepare the region to combat flooding from the projected sea level rise and future wet weather issues.
Our Jacobs-led consultant team worked alongside King County to develop a sustainable and resilient treatment station with conveyance and outfall structure to treat combined sewer overflows prior to discharge into the Lower Duwamish Waterway – keeping an estimated 95 percent of untreated overflows from entering local waterways.
The Georgetown WWTS just became just became the first Platinum-awarded Envision project in Washington state, underscoring the lasting positive social, economic and environmental benefits the project will bring to the community.
95

%

of untreated overflows will be kept from entering local waterways

50

K

cisterns, green roof and native and adaptive plantings are just a few of the applied solutions to improve air quality and stormwater

70

M

gallons of combined stormwater runoff and wastewater treated per day when completed in 2022

100

kW

capability from solar-ready zone sized to increase renewable energy generation and consumption
"The Georgetown Wet Weather Treatment Station integrates technical innovation and sustainable solutions, serving as a community asset. We developed this project – in close collaboration with King County and the local community – with sustainability as a central theme, showcasing the county's commitment to protecting the environment and proactivity ahead of unpredictable storm and wet weather instances impacted by sea level rise and climate variability over the next several decades."
Explore Washington's first Envision Platinum project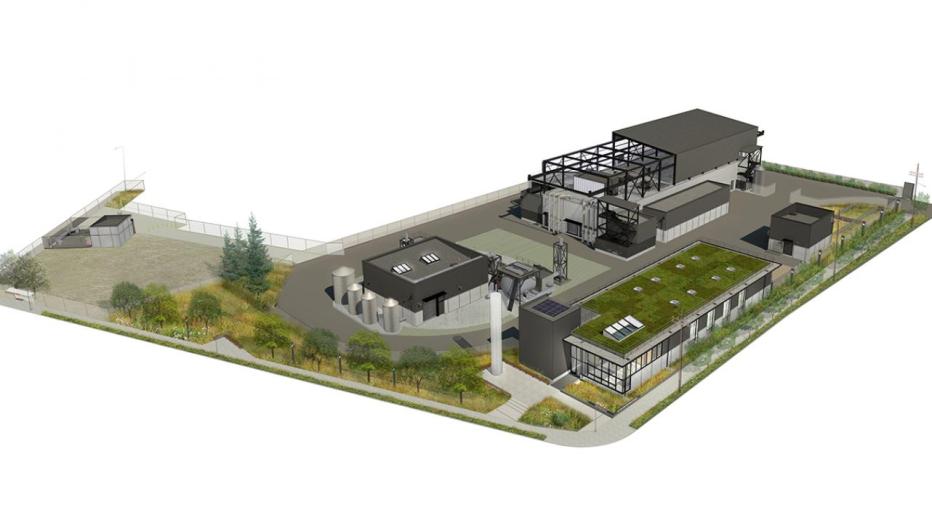 With this new wet weather treatment station, we're helping King County protect the Duwamish River from stormwater pollution for the next century.
In 2013, King County retained our Jacobs-led team to deliver the Georgetown WWTS project, which is a satellite treatment facility that will operate an average of approximately 20 times per year, processing about 70 million gallons of wastewater annually. The project integrates site selection, treatment process evaluations, environmental and cultural impacts, discharge regulatory requirements, financial analysis and description of the recommended system proposal to meet state and federal wastewater facility, and combined sewer overflow plan requirements.
While siting and planning the project, we used 3D models and a Virtual Reality (VR) environment to optimize layouts for function and space planning, ensuring the design approach would integrate naturally within the industrial neighborhood, while still reflecting the local history and culture. The facility itself provides community benefits, such as educational opportunities, meeting and training rooms; and supports the economy with jobs through a local hire requirement. The team optimized the Georgetown WWTS layout by integrating several facilities and providing multi-purpose function wherever possible.
Visible sustainable design elements throughout the facility that demonstrate the project team's commitment to conservation, include:
A green roof and 50,000-gallon cisterns to capture stormwater for on-site irrigation.
Pervious paving to slow the flow of stormwater across the site.
Native and adapted plantings to improve air quality and stormwater management.
Wood and other recycled materials used to divert more than 85 percent of demolition materials from the landfill.
A solar-ready zone capable of producing up to 100 kW to increase renewable energy generation and consumption.
Translucent wind wall and skylights to reduce electrical demands and produce energy fed directly to the electrical grid.
The Georgetown WWTS project will reduce contamination and improve aquatic habitat and overall water quality of the Duwamish River. When complete in 2022, the station will process up to 70 million gallons of combined stormwater runoff and wastewater per day, water that would otherwise have discharged directly into the river without treatment during storm events. The project will control two existing combined sewer overflows into the Lower Duwamish River.
Jacobs has a longstanding partnership with King County Wastewater Treatment Division, including serving as prime consultant for the Brightwater Treatment Plant, which at the time it was built in 2011, was the largest membrane bioreactor in North America.
Discover more
Featured articles