4G Wetlands
Addressing Florida's dwindling groundwater resources with the largest groundwater recharge wetland in the world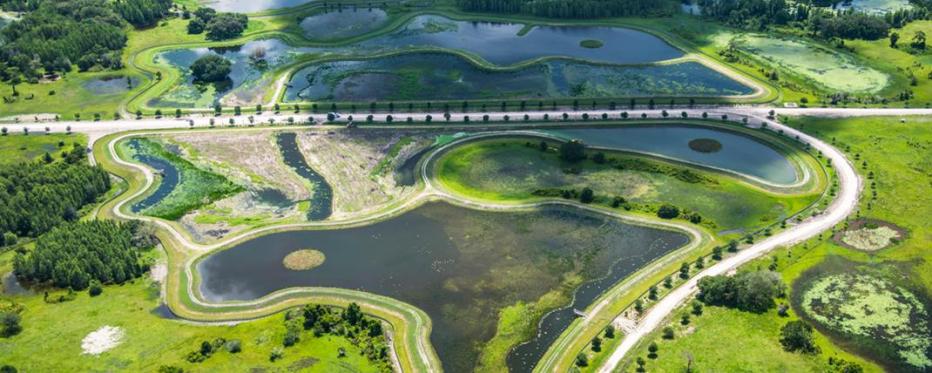 Well-known for its nearly 700 miles of beaches and its location between the Atlantic Ocean and Gulf of Mexico, Florida is surprisingly one of the locations in the U.S. that relies on groundwater, rather than surface water to meet its freshwater needs.
In fact, the Floridian Aquifer that lies beneath Florida (and portions of three other states) is filled with large portions of freshwater, making it possible to insert pipes into the ground and pump what seems to be an infinite supply of freshwater, into communities. For years, that's been the common practice for most of the state – there are more than a million wells inserted into the aquifer today, helping provide more than 90 percent of the state's freshwater.
As the Sunshine State's population grew in the last several centuries – reaching more than 20 million, making it the third most populous in the country – the amount of groundwater being removed, primarily in the upper portion of the Floridian Aquifer, reached a tipping point. Without changes to water management practices, the Upper Floridian Aquifer, which supports more than $7.5 billion in agriculture and provides drinking water to 10 million people, faces depletion.
To address the growing concerns about groundwater depletion, Pasco County Utilities and the Southwest Florida Water Management District developed a reclaimed water project, known as the 4G Wetlands.
Since 2010, Jacobs, alongside Pasco County Utilities and the Southwest Florida Water Management District, has provided a full-range of design, permitting and services during construction for the 4G Wetlands – a multifunctional project constructed on privately-owned property and consisting of a 176-acre groundwater recharge wetland system built on uplands pastures – reverses groundwater drawdowns in areas affected by public water supply wellfields in southwest Florida.
176

acres of new wildlife habitat created within 15 constructed wetland cells

2.5

M

people and $7.5B in agriculture receiving a more sustainable water supply

90

%

of Florida's freshwater supply is supported by the Floridan Aquifer, recharged through the 4G Wetlands

6

x

award-winning project is the largest-of-its-kind in the world
"This innovative, reclaimed water project facilitates a more holistic watershed management approach. The ability to improve an area that has seen severe ecological degradation, coupled with recharging the Upper Floridan aquifer that will provide for a more sustainable water supply for the 2.5 million people of the Tampa Bay region, serves as an example of how to better manage all freshwater resources."
Grounded in success: Florida's secret to sustainable water supply
This project features 176 acres of created wetland habitat, is 6x award-winning and shares a name with a high-speed wireless network: meet the 4G Wetlands.
Designed to work collaboratively with a newly constructed, 500-million-gallon reclaimed water reservoir to balance wet-weather supply and dry-weather demands, the 4G Wetlands system is sized to receive five million gallons of reclaimed water per day to passively recharge the surficial and Upper Floridan aquifers, while protecting water quality through natural biological treatment. In addition to the benefits to the aquifer and the regional water resources, the project will restore the ecological functions of the historically degraded onsite lakes and wetlands and create 176 acres of new wildlife habitat within the 15 constructed wetland cells.
The wetlands are an important component of the region's objective to provide recharge in an area of hydrologic stress. The 4G Wetlands – the largest groundwater recharge wetland in the world – includes a range of wetland ecotones that will be sustained naturally over the long term by ecologically appropriate and carefully controlled water-level operation. The grading and planting plans build on existing cell topography to minimize earthmoving and establish plant communities adapted to varying water depths within each cell. Species chosen for each zone in the project plans are based on these parameters, such as floating aquatic species in deep zones, emergent wetland species in marsh zones, cypress trees in shallow zones and transitional grasses along the berms at the waters' edge.
The natural wetlands in the area are expected to significantly benefit from the additional recharge with no discharge from the facility to surface waters. The natural design of the wetland cells blends in with the natural environment, creating biological diversity and providing significant additional acreage of wildlife habitat. The wetland cells also naturally provide water quality improvement, including the removal of nitrate-nitrogen inherent in the reclaimed water, to protect groundwater and adjacent surface water quality. Water quality improvements occur through biological processes of wetland surface and soil treatment as water infiltrates through the wetland subsoils protecting aquifer water quality.
The 4G Wetlands system life-cycle costs are expected to be approximately half of what a conventional system would have cost to Pasco County, making it an example of sustainable water management and further demonstrating the value of how organizations can utilize public-private partnerships to maximize the benefits of water reuse, and use this valuable resource for its highest purpose: ecology and water supply.
In 2018, the Water Environment Federation honored the project with one of its annual Project Excellence Awards, which pay tribute to excellence and innovation in the execution of projects and programs in the water sector.
The 4G Wetlands project received numerous other accolades, including:
2017 Florida Water Environment Association's David W. York Water Reuse Project of the Year Award.
2017 Tampa Bay Association of Environmental Professionals' Environmental Excellence Award.
2017 International Green Apple Award for Environmental Best Practice.
2018 National Association of Clean Water Agencies National Environmental Achievement Award.
2018 American Academy of Environmental Engineers and Scientist Excellence in Environmental Engineering Honor Award for Design.