Episode 3: Energy Transition, Asia Pacific
Show Contributors: Armida Salsiah Alisjahbana, Zoe Haseman, Jens Nielsen
The Asia Pacific region is home to over half of the world's population, consumes over 60% of the world's energy and consists of some of the fastest growing economies internationally. The region is also defined by its diverse spectrum of socio-economic and geographic conditions, along with similarly varied national priorities and policies. This complexity brings unique challenges to the region's energy transition efforts, especially in relation to balancing energy equity, security, and sustainability.
In this episode, we explore how Asia Pacific's diversity could also act as a catalyst for the net zero agenda and accelerate the transition through trade, knowledge-sharing, and collaboration opportunities.
Armida Salsiah Alisjahbana
Under-Secretary-General of the United Nations, Executive Secretary of United Nations' Economic and Social Commission for Asia and the Pacific (ESCAP)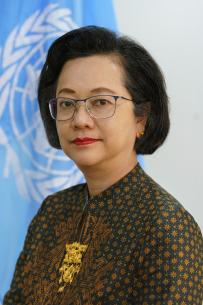 Ms. Armida Salsiah Alisjahbana, Executive Secretary of the United Nations Economic and Social Commission for Asia and the Pacific took office on 1 November 2018. Ms. Alisjahbana was Professor of Economics at Universitas Padjadjaran and was Minister of National Development Planning and the Head of the National Development Planning Agency (BAPPENAS), Indonesia from 2009 to 2014. In 2016, Ms. Alisjahbana was a member of the High-Level Independent Team of Advisors to support the ECOSOC Dialogue on the longer-term positioning of the United Nations for the 2030 Agenda. Ms. Alisjahbana obtained her Ph.D. in Economics from the University of Washington, USA.
"The goal of net-zero emissions by 2050, committed by several countries of our region, is a key milestone of the energy transition. The parameters of the energy transition are clear – creating energy systems that are low carbon, sustainable, digital and decentralised – but the approach and pace for each country will be different."
We hope you enjoyed the podcast. If you have any questions or would like to reach us or our guests, we would love to hear from you. Find out more about COP26 and get in touch with us here.
Join us on our next episode as we discuss Climate Change & Health, sparking real conversations with the intention to  Collaborate. Act. Commit. to real change.