Spaceflight: Let's Open Up the Frontier
Show Contributors: Dr. Peggy Whitson, Paul Thies
On this episode of If/When, Dr. Peggy Whitson, Axiom Space's Director of Human Spaceflight, discusses the future of human spaceflight and the role that privatized, commercial endeavors will play to help us push the frontiers of human space exploration.
Before joining Axiom Space, she enjoyed a storied 37-year career as a NASA astronaut and scientist. Among her accomplishments, Dr. Whitson was the first female commander of the ISS and has flown three long-duration missions to the ISS, has conducted 10 spacewalks and has spent more cumulative time in space than any woman in the world. Upon joining Axiom Space, she commanded the Axiom Mission 2 (Ax-2), becoming the first female commander of a commercial spaceflight mission to the ISS.
About our guest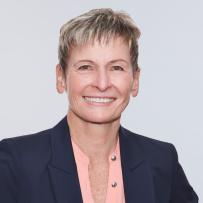 Peggy Whitson, Ph.D., America's most experienced astronaut, flew on three NASA long-duration space flights and Axiom Mission 2 (Ax-2), accumulating 675 days in space, more than any other American astronaut or woman astronaut in the world.
Whitson has over 37 years of space and science experience with NASA and is currently serving as director of human spaceflight for Axiom Space. Throughout her career, Whitson has held various positions to include NASA's chief of the Astronaut Office, two-time commander of the International Space Station (ISS), chair of NASA's Astronaut Selection Board, chief of NASA's Operations Branch, and deputy division chief for both NASA's Medical Sciences and the Astronaut Office.
On Ax-2, Whitson become the first female commander of a private space mission, adding to her accomplishments as the first female commander of the ISS, the only woman to serve as ISS commander twice, and the first woman, non-military chief of NASA's Astronaut Office. During her three previous space missions to the ISS (Expeditions 5, 16, 50/51/52), she conducted 10 spacewalks, logging over 60 hours. Throughout Whitson's career, she has contributed to hundreds of experiments in biology, biotechnology, physical science, and Earth science.
Whitson received degrees in biology and chemistry from lowa Wesleyan and a doctoral degree in biochemistry from Rice University. She has been honored with numerous awards, including NASA medals in Leadership, Outstanding Leadership, and Exceptional Service; Forbes 50 over 50 (2023); TIME 100 Most Influential People in the World (2018); and Women in Aviation Lifetime Achievement Award (2017).