Negotiation: Points of Know Returns
Show Contributors: Chris Voss, Paul Thies
On this episode of If/When, we discuss the art of negotiation with Chris Voss, CEO and founder of the Black Swan Group and the acclaimed author of the book, Never Split the Difference. In the discussion that follows, Chris shares the lessons he's learned in his career as a lead negotiator that are amazingly applicable to anyone looking to create a positive outcome between parties. He explains some of the most common mistakes would-be dealmakers commit, and he unpacks for us concepts such as Yes without How is worthless, and Start with No.
About our guest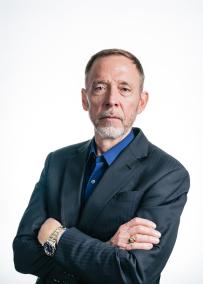 Chris Voss is a former Lead FBI Negotiator and dynamic  speaker who debunks the biggest myths of negotiation. Chris used his many years of experience in international crises and high-stakes negotiations to develop a unique program that applies globally proven techniques to the business world. Prior to 2008, Chris was the lead international kidnapping negotiator for the Federal Bureau of Investigation (FBI), as well as the FBI's hostage negotiation representative for the National Security Council's Hostage Working Group. During his career, he also represented the U.S. government as an expert in kidnapping at two international conferences sponsored by the G8.
Before becoming the FBI's lead international kidnapping negotiator, Christopher served as the lead Crisis Negotiator for the New York City division of the FBI. Chris was a member of the New York City Joint Terrorist Task Force for 14 years. He was the case agent on TERRSTOP (Omar Abdel-Rahman/"The Blind Sheikh" case) and the TWA Flight 800 catastrophe. He also negotiated the surrender of the first hostage taker to give up in the Chase Manhattan Bank robbery. During Chris's 24-year tenure with the Bureau, he was trained in the art of negotiation by not only the FBI, but also Scotland Yard and Harvard Law School. He is also a recipient of the Attorney General's Award for Excellence in Law Enforcement and the FBI Agents Association Award for Distinguished and Exemplary Service. Chris is the author of the book, Never Split The Difference©.
You might be interested in...