Corporate/Academic Partnerships: A Well-Rounded Education
Show Contributors: Timothy Berendt, Shreya Mallamula, Dawson Racek, Paul Thies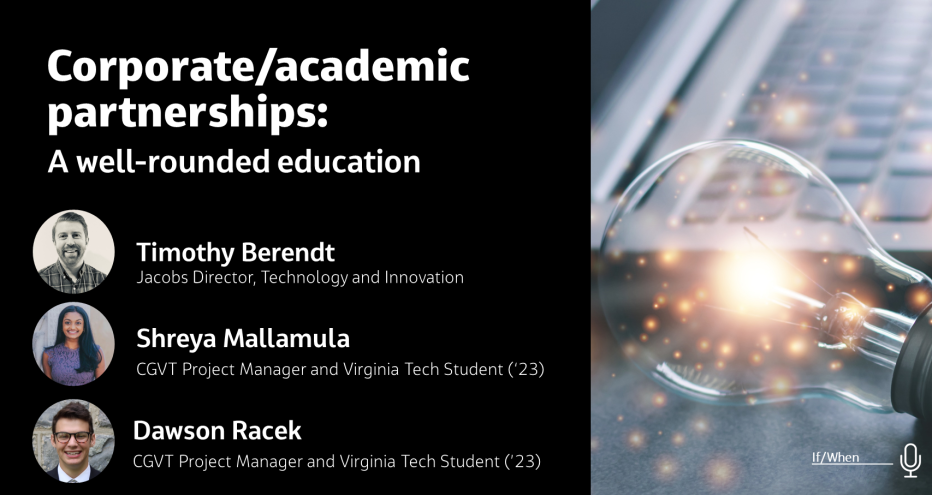 When it comes to tackling big challenges, innovative partnerships can be the key to sourcing differentiated outcomes. Earlier this year, Jacobs put the idea of radical collaboration to the test when it partnered with not one, but two student teams from Virginia Tech's Consulting Group for a three-month exercise on design thinking methodologies and processes. The students had access to Jacobs subject matter experts and professionals in the field, whereas Jacobs had access to a team of academic researchers who could augment the company's projects with supplemental data and trends research. The project culminated with two proposals and supportive testing.
On this episode of If/When we discussed the genesis and output of this fantastic program with its organizer, Timothy Berendt, Jacobs Director, Technology and Innovation. Joining us were the two student team leaders from the Consulting Group at Virginia Tech: project managers Dawson Racek and Shreya Mallamula, both of whom are Virginia Tech class of 2023 seniors.
"It was a fantastic opportunity to engage with and hear from our future thought leaders. The team really out did themselves in their research and presentation. I was truly impressed. I hope we can continue to engage in these partnerships as I think the freshness of ideas, diversity of thought, and expanded worldview we got from the team is something that both aligns with our values at Jacobs and can also continue to accelerate us forward as an industry leader."
"The teams did thorough research to understand the market. The competitor matrix for each project gave a lot of valuable insights to understand where we stand as a company in each market and how we could strategize our approach."
"Jacobs and CGVT had an extremely distinct partnership that truly set it apart from any prior connection we've had with a company. To start, this was the first time that we have had the bandwidth and interest to dedicate two project teams to work with the company, each with their own distinct goals and milestones. In turn, I have to shoutout to Tim on his diligence and dedication to genuinely ensure that the students on the teams were engaged and interested in what the projects were all about. Our collaboration was also dealing with new and prevalent topics, the research and deliverables of which Jacobs was going to utilize for the future. Having the direction and strategic application of a great company like Jacobs, as well as knowing that the research that the students were doing was laying the groundwork for innovation at Jacobs, helped CGVT realize the value of what our collaboration meant, and we as an organization are very grateful."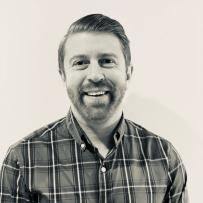 A disruptor, educator, and transformer obsessed with human centered design, Jacobs Director, Technology & Innovation Timothy Berendt is experienced in corporate innovation, business development and strategic investments. At Jacobs, Tim is responsible for the incubation and acceleration of multiple projects including sourcing innovation and technology organizations. In his current role, he also co-led Jacobs' first Corporate Venture Capital arm and partnership strategy, structure, and processes. Tim is also a professor at Massachusetts Art College of Art & Design where he teaches entrepreneurship, human centered design, and other innovative sciences in the Master of Design: Design Innovation program.  Previous to joining Jacobs, Tim was the Head of Business Development for Aifred Health, focused on utilizing artificial intelligence to assist in clinical decision support in mental healthcare, starting with depression. Tim led Aifred's strategy, deployment and growth efforts, specifically in the United States. Aifred finished #1 in North America and #2 in the World in IBM's Global AI X-Prize and was recently highlighted in CB Insights State of Healthcare Report.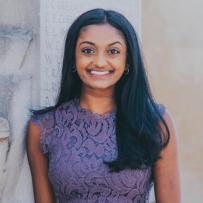 Shreya Mallamula is a rising senior studying Computer Science at Virginia Tech University. Over the past semester she has had the privilege of serving as the Project Manager for the school's technical partnership with Jacobs Engineering. During the summer of 2022, she is continuing her involvement with the Consulting Group as the Director of Projects, looking for new companies/initiatives to connect with, while also working as a Cloud Engineering Consultant for Amazon AWS. Outside of the Consulting Group, she is involved with a number of Women in STEM initiatives on campus, and she also loves dancing, cooking and hanging out with her friends.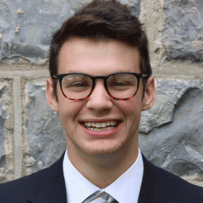 Dawson Racek is a senior at Virginia Tech studying Corporate Finance and Management with a concentration in Entrepreneurship, Innovation, and Technology. He has interned at Jacobs for over a year on the Innovation and Investor Relations teams, helping with the company's Venture Capital efforts. He is now working at RingCentral, helping to invest into UCaaS solutions.