Cool & Composed: Staying True to an Innovative Vision
Show Contributors: Mark Mothersbaugh, Paul Thies
In the world of popular music and culture, in terms of longevity, breadth and diversity of projects, he has few peers. From being the front man for legendary new wave band and video pioneers, Devo (2022 nominees for the Rock & Roll Hall of Fame), to a prolific film and TV composer whose credits include Thor: Ragnarok, The Royal Tenenbaums, Pitch Perfect 2, Happy Gilmore and The Lego Movie, Mark Mothersbaugh has left his own unique imprint on the world of audio and video media. In this episode of If/When, Mark discusses the inspiration of ideas, and maintaining fidelity to a creative vision when pioneering something new.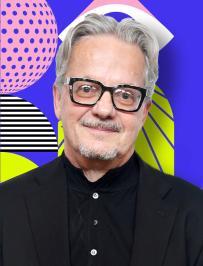 Mark Mothersbaugh is one of this era's most unique and prolific composers. Deeply aware of the ability of precise, multi-faceted artistic expression to deliver vital social commentary, he has perpetually challenged and redefined musical and visual boundaries. Mothersbaugh co-founded influential rock group DEVO, and then parlayed his avant-garde musical background into a leading role in the world of scoring for filmed and animated entertainment, interactive media and commercials.
As an award winning composer, his credits include Thor: Ragnarok, Moonrise Kingdom, 21 Jump Street, Cloudy with a Chance of Meatballs, Enlightened, Rushmore, The Royal Tenenbaums, The Life Aquatic, Pee Wee's Playhouse, and the hugely successful Rugrats television, stage and film franchise. Through his multimedia company, Mutato Muzika, Mark has scored hundreds of commercials. Mothersbaugh received the BMI Richard Kirk Award for Outstanding Career Achievement at the organization's 2004 Film/TV Awards.