Adversarial AI: What Dangers Lurk?
Show Contributors: Dr. Jennifer Blum, Charles Ramsay, Paul Thies
When it comes to weaponized AI, you can forget Skynet, Ultron and Hal 9000 – the AI villains plaguing commercial operations these days come in the forms of poisoned data sets, hijacked AI models, and adversarial samples. The world of malevolent data is no longer just the stuff of science fiction, but a reality that cybersecurity experts, data scientists and supply chain managers all need to be cognizant of. In this episode of If/When, we explored the topic of adversarial artificial intelligence with Dr. Jennifer Blum, Senior Director Data Scientist for Jacobs CMS Cyber & Intelligence Business Unit; and Charles Ramsay, Director/Data Scientist, Jacobs CMS Cyber & Intelligence Business Unit.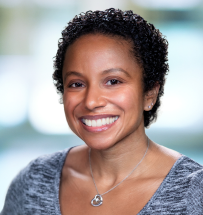 Dr. Jennifer Blum, an astrophysicist, is Senior Director Data Scientist for Jacobs CMS Cyber & Intelligence Business Unit. She is the second African American woman to ever graduate with a Ph.D. in Astrophysics from the University of Michigan. Her doctorate focused on using X-ray satellites to determine how fast black holes and neutron stars spin. Her current expertise is in cyber security algorithm development and advanced statistical data science methodologies.  Dr. Blum's work supports multiple government and commercial efforts. She designed and developed application programming interfaces (APIs) for LMI clients and the Defense Intelligence Agency (CIO) mission. Additionally, she was a senior IT strategist and helped DIA develop critical cyber infrastructure. Prior to that assignment, Dr. Blum worked at a federal agency as a data scientist where she created machine learning algorithms for cyber security missions and wrote reports for senior leadership. Currently, she is involved in advanced cyber security technologies and business solutions for Jacobs. In her spare time, Dr. Blum enjoys voice acting and has performed in radio commercials.
Charles Ramsay is an accomplished data science, machine learning, and senior leadership professional with a strong software development background, combining 20+ years of technical expertise with a customer mission focus. He is recognized for leading multiple software initiatives in programs of record and in research and development domains. His team's current contract portfolio includes cyber research, data science analytics, machine learning, statistical analysis, data engineering, and development for the Intelligence Community (IC), DoD DARPA and other federal agencies.