Moon Walking: Giant Steps Are What You Take
Show Contributors: General (Ret.) Charlie Duke, Paul Thies
In April 1972, he became the youngest person ever to walk on the Moon – a record he still holds to this day. Just three years prior, he served in a critical role as part of the Mission Control team for Apollo 11, and he was later a member of the backup crew for the ill-fated Apollo 13. But in the heyday of NASA's lunar explorations, he would eventually get his own shot at walking on the moon. As we close in on the 50th anniversary of the flight of Apollo 16, we sat down with General (Ret.) Charlie Duke, lunar module pilot for this historic flight, to reminisce about his three-day excursion to earth's farthest shore.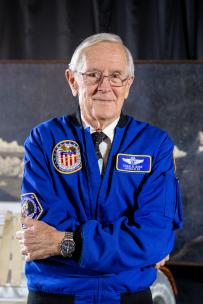 Astronaut Charlie Duke is one of the 19 astronauts selected by NASA in April 1966, and went on to serve in 5 different Apollo missions to the Moon:
Member of the astronaut support crew for the Apollo 10
CAPCOM for Apollo 11, the first manned landing on the Moon
Backup lunar module pilot on Apollo 13
Lunar module pilot on Apollo 16
Backup lunar module pilot on Apollo 17
As lunar module pilot of Apollo 16 (April 16-27, 1972) Mr. Duke was accompanied on the fifth manned lunar mission by John W. Young (spacecraft commander) and Thomas K. Mattingly II (command module pilot).
In December 1975, Duke retired from NASA to enter private business in San Antonio. He entered the USAF Reserves in 1975 and served as Mobilization Augmentee to Commander AF Basic Military Training Center and to Commander USAF Recruiting Service. He was promoted to Brigadier General in 1979 and retired in June, 1986. Since 1976, Mr. Duke has been involved in a wide variety of business and is currently a public speaker of international renown on topics that range from delivering under pressure, to team preparedness and space exploration.