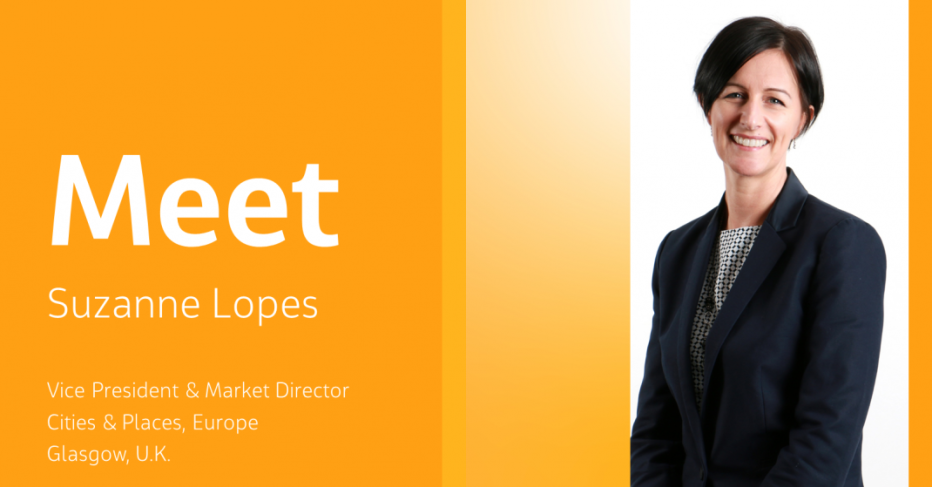 Prior to her current role as Jacobs Vice President and Market Director of Cities & Places – Europe, Suzanne Lopes served as the Design and Technical Director of Expo 2020 Dubai.
Her initial role involved creating the design briefs, as well as scopes that were crucial to procure many of the Design Consultants that have been appointed on Expo 2020 Dubai. She also created technical strategies and coordinated design across the site. Suzanne frequently dealt with change, innovation, and new and emerging technologies, witnessing the Expo 2020 Dubai site transform into a new urban design space. Expo 2020 Dubai is a unique project and Dubai is determined to make it live up to its ambition of "Connecting Minds, Creating the Future".
After five years with Expo 2020 Dubai, Suzanne moved into her current role. "My focus is on cities of the future, I'm particularly fascinated by how our cities will be shaped by the COVID-19 pandemic, with many global trends such as working from home; live, work and play communities; reduced travel; and connected, secure and smart places and how these global trends have all been massively accelerated by the COVID-19 pandemic," she said.
"Suzanne Lopes is a trusted member of the PMC team that has been working alongside our Expo team over the past few years. She not only is a good architect but an empowering leader in her field."
Suzanne's career began with an apprenticeship as a draftsperson; a role which she thoroughly enjoyed until a recession shut her place of work. She then realized that she was truly passionate about buildings and architecture and decided to go to university to study Architectural Technology and her career then took off. Suzanne started by working in small to medium-sized architectural practices where she designed offices, hospitals, police headquarters, hotels and sports stadiums, among others. This took her back and forth between the U.K. and Australia as an Architectural Technician to an Associate Director.
Suzanne's work on sports stadiums became a defining point when she was seconded into the Olympic Delivery Authority at London 2012 Olympics and Paralympics. She moved to the Middle East in October 2013 where she was a Precinct Lead for the Program Management Consultant for the 2022 FIFA World Cup QatarTM, before transitioning to work on Expo 2020 Dubai in 2015.
Suzanne is clear-eyed about the lessons she has learned in her career and emphasizes that it's not always a career 'ladder'. "Work in an area you are passionate in," she says. "Take an opportunity that will allow you to grow, don't be blinded by job titles and don't be afraid to take a side step or even a backwards step in your career, as long as you find a role that you are passionate about, and it allows challenges in which you will grow and learn."
Even though her role has taken her away from the drawing board, Suzanne still relishes the opportunity to chair and take part in a creative workshop and coming up with innovative solutions to a challenge.
"I love seeing the finished product," says Suzanne.  "When you meet a client for the first time they will have a vision of what they want. Taking that vision, finding solutions and making it real is a real buzz for me. There's nothing quite like walking into a newly opened venue or building that you have been a part of creating."
5

years working on Expo 2020 Dubai

6

cities lived in

4

major international programs and events worked on

190

+

participating nations at Expo 2020 Dubai
Watch: Suzanne's career story