Meet Rick Robinson
Director and Global Principal for Smart, Connected and Secure Cities and Places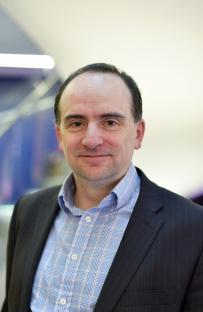 Dr. Rick Robinson is Director and Global Principal for Smart, Connected and Secure Cities and Places for Jacobs. He advises cities, infrastructure operators, property developers and investors on the use of technology to improve buildings, infrastructure, places, communities and business and organizational performance. Rick has led the delivery of digital strategies for some of the largest developments in the U.K., Europe and the Middle East, representing billions of pounds of investment. 
Previously, he has led Smart Cities businesses for Arup and IBM, and was Director of Technology for Amey, where he was responsible for driving advances in digital technology into public services and infrastructure that are used by about 1 in 4 people in the U.K. every day. Rick collaborates with a network of technology entrepreneurs, universities and social institutions to explore innovations in digital technology, and has advised the U.K. Government and United Nations on their impact on the built environment, economy, communities and society. Rick is a member of the UK5G Steering Group, a Fellow of the British Computer Society, a Fellow of the Royal Society for Arts, Manufactures and Commerce and a member of the Academy of Urbanism. He founded and co-chairs the Birmingham Smart City Alliance. Rick writes about his work at http://theurbantechnologist.com/ and you can connect with him on Twitter as @dr_rick. 
"There's a lot of talk today about the importance of returning to physical places and offices to drive innovation post-COVID-19, citing the origins of the Lloyds' insurance market in a coffee shop opened in 1686. Surely it's time to recognize that more than 300 years later, in social media we have invented a new tool that's phenomenally powerful in driving innovation remotely. That's not to say that getting together in person isn't tremendously important – it is; but we do have the opportunity to completely re-think when, where and why we do so."
1980

the year Rick an early digital native, first learned to code z80 assembler from his father

2008

the year he started his blog, for which he's discussed smart cities with former U.S. VP Al Gore & cybersecurity with the U.K.'s Princess Anne

20

city institutions persuaded by Rick to form the Birmingham Smart City Alliance, focused on disruptive ideas

2

x

as much as his car - that's the value of his vinyl record collection
More from Rick
Blog: The Urban Technologist
Dr. Rick Robinson shares ideas and solutions for people, place and technology on his personal blog.