Meet Kate Kenny
London, England, U.K.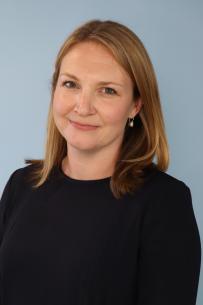 When she's not chasing her two young boys around, you'll find Kate Kenny making an impact, whether it's mentoring and helping to develop others, or in her diverse role here at Jacobs.
In her role as People & Places Solutions Senior Vice President and General Manager, Kate and her team bring together knowledge and innovation from across the Jacobs organization to challenge the way we solve problems and shape the next generation of solutions for our clients in a variety of markets. Solutions that are better for the environment, better for people, and better for the economy.
"We take an integrated approach, delivering digitally-enabled technology solutions and results that transform lives – for our clients and our communities, and help make the world smarter, more connected and more sustainable," Kate explains.
In her previous role, Kate led Growth & Sales for People & Places Solutions in Europe. With 20 years' experience in engineering consultancy, Kate has worked on the business cases for major U.K. infrastructure programs including Crossrail, High Speed Two, the expansion of Heathrow and Stansted airports and the Silvertown Tunnel in London.
After A-levels, Kate went straight to Royal Holloway, University of London, to study Pure Maths, with no idea of what she wanted to do for a career. When she left university, she did bar work – in clubs and pubs around Brighton.
"Perhaps not an obvious career step for a mathematician, but it was great fun," Kate reflects. "I loved being customer-facing and it gave me a great grounding in working with diverse people and handling difficult situations."
She then was invited to interview for a large engineering firm and accepted a job as a graduate transport consultant. There, she worked on all kinds of projects including analysis of the implementation of London's congestion charging scheme, European cross-border traffic data exchange, modelling travel to airports and reviewing the impact of the Government's 10-year plan for transport.
Things only progressed from there. Today, she says, her job is very diverse, "No two days are the same. I learn something new every day and am lucky to work with incredibly talented people."
"We put people at the heart of it all, thinking about how we connect communities in a sustainable and inclusive way."
Get to know Kate
What do you think are some of the most complex problems cities are facing these days?
"The role of the city in a post-COVID-19 world is under the spotlight, with questions over the impact of density in transmission, the future of central business districts now that remote working is more accepted, and a new appreciation for high quality public space. The pandemic has allowed us to peel back the skin of cities, to create a better understanding of the systems that keep our society and economy going, and the fragility of these systems. When we talk about "recovery", we are often discussing rebounding from the short sharp shock of COVID-19, when in fact we need to be paying attention to some of the systemic problems that it has brought under the spotlight. If we do this properly, we should be looking at creating a future which is brighter and fairer, and cities that are more resilient to shocks, with a less devastating impact."
"Despite what we have experienced and the recovery challenge ahead of us, the climate emergency is still arguably the biggest challenge our cities face. We cannot afford to forget this. We have made major commitments within our own organisation, launching our own Carbon Action Plan this year. We will be net zero in 2020, and carbon negative by 2030. We are helping our clients set and achieve similar goals. The pandemic has helped us see what good looks like in terms of air quality and active travel. We are at a point where we need to build upon these short-term improvements and turn them into long-term ways of life."
Can you give an example of how you apply interdisciplinarity at work?
"Interdisciplinarity is key to the solutions we create for our clients – we intentionally put multiple disciplines around a client problem, to provide diversity of thought and help us find the best range of solutions. As an example, we were recently considering a challenge for a local authority in the U.K. where they were considering change of use of one of their estate assets. In an initial workshop we had an economist, a transport planner, a town planner, a landscape architect, a buildings system engineer, a land valuation expert and an interior designer. These different viewpoints all approach the problem in different ways and allow us to create something bespoke to the situation – rather than offering a single-discipline service or taking something off a shelf."
2020

the year Kate became a Fellow of the Institution of Civil Engineers

20

years of experience in key management, operations, sales & technical roles

10

years mentoring through various industry schemes

3

street parties organized for her local community
You might be interested in...