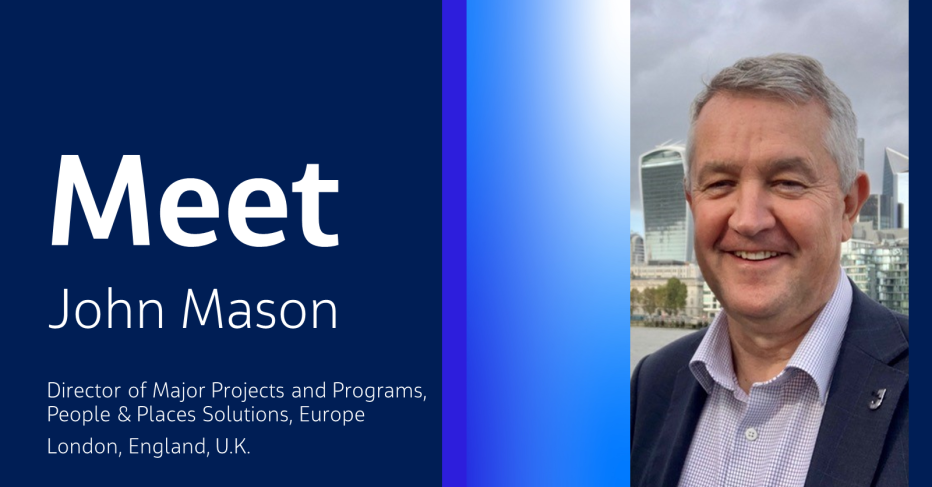 For John Mason, challenging today is about recognizing the best of what we have, or have done, and then building on this to reinvent tomorrow by adopting fresh approaches and embracing new innovative ways of working, while keeping a focus on the benefits and outcomes our clients want to achieve. Meet John.
He's a senior executive and program director with over thirty years consulting and client experience in the U.S., Australia, Asia and Europe, with significant experience in the governance, strategy and delivery of large-scale infrastructure related programs, in both the private and public sector. John has particular experience in the planning, design, procurement and delivery of major urban and rural, road and rail infrastructure, often within a complex stakeholder environment. His rail experience extends across heavy, light, metro and high-speed rail.
John is a passionate advocate for the creation of integrated, collaborative teams and the benefits they bring in defining, developing and delivering major programs successfully. In addition to his role as director of major projects and programs, People & Places Solutions in Europe, he also serves as the European representative on our global program management team.
"I finally knew that I'd reached a new pinnacle in my career, when after too many years and too many stories, my family watched a TV program on one of the major projects I'd been involved with and said that they never realized that's what I did and that the job looked really exciting. I agreed but acknowledged afterwards that I clearly need to work on my story-telling skills."
A civil engineer by background, John believes in the differences major programs can bring to the communities they serve and the physical, human, environmental and learning legacies they can leave behind.
He believes that while the challenges we face are significant, be they digital, social or environmental, the opportunity to shape a better future is ours - and it's an exciting one.
So why and how did John get into civil engineering in the first place? Being driven over the Simplon Pass in Switzerland as a teenager and seeing a bridge being constructed across a deep ravine sparked a fascination that has been built on ever since, along with the sense of really making a difference to the world we live in and the chance to work with so many great people and to hear the stories they have to tell.
John's program and project experience is extensive and includes Cross River Rail in Brisbane, Crossrail in London, the East London Line, West Coast Route Modernization, High Speed Rail 1, Toowoomba Second Range Crossing (recently recognized by Engineering News-Record as the winner of their Global Best Project for 2020) and the Caulfield to Dandenong Level Crossing Removal Project in Melbourne (winner of Consult Australia's award for excellence in project team collaboration and sustainability in design).
40

years of experience

50

+

programs & projects worked on

20

+

different countries worked in

5

continents he's delivered projects on