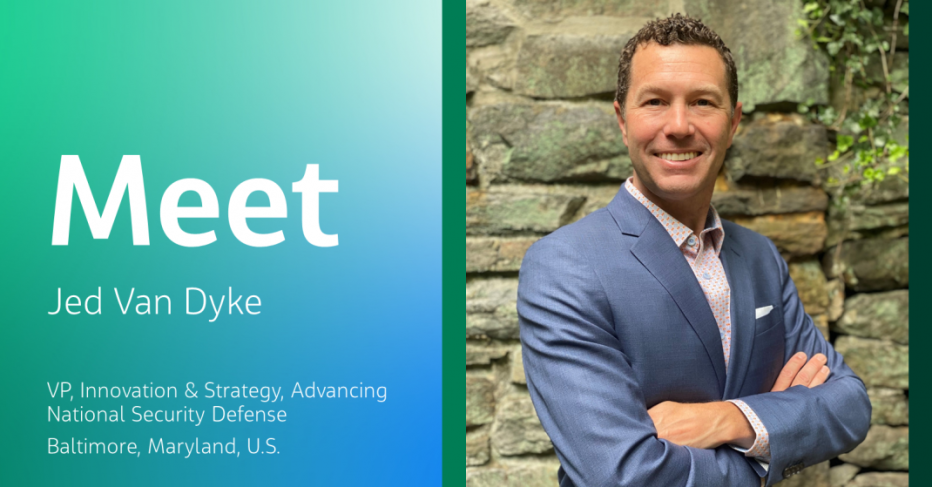 A common theme throughout Jed Van Dyke's career has been the pursuit of impact: environmental impact as part of a small, sustainability-focused non-governmental organization, mission impact supporting the national security objectives of U.S. intelligence community and Department of Defense, and human impact as an entrepreneur, business leader and mentor.
Since joining Jacobs in 2016, Jed has continued his pursuit of impact with his unrelenting efforts to drive and accelerate Jacobs' transformation into an innovative, digitally enabled solutions provider tackling challenges of global scope and scale.
As the Vice President for Innovation and Strategy for Jacobs' Advancing National Security (ANS) Defense business, Jed works with ANS leaders to define, develop and execute against the organization's strategic vision and growth objectives.
Prior to his current role within ANS Defense, Jed was a catalyst for Jacobs' digital transformation as one of the architects and leaders of the Jacobs Connected Enterprise strategy. Jed came to Jacobs through the acquisition of The Van Dyke Technology Group. As founder, CEO and CFO of Van Dyke, Jed grew his company into a premier national security partner for the U.S. intelligence community by developing, delivering and operating cybersecurity solutions for the world's most sensitive, demanding and complex mission environments.
"Innovation through inspiration is in Jed's blood. He has amplified our focus on innovative digital solutions for the world's most sensitive, demanding and complex mission environments. He is always innovating for the now with a view toward the future."
Jed began his career in the environmental non-profit world, where he aligned his thirst for impact with his passion for the natural world to help protect threatened ecosystems and environments through conservation.
He has a deep passion for challenging convention and believes in the power of curiosity, creativity and courage — grounded with appropriate business pragmatism — to drive transformational outcomes, both in business and in life.
Living in Baltimore, Maryland, Jed cherishes time with his wife, two boys and two dogs, and where he hopes to help make his community a better, more welcoming and equitable place.
2

years in environmental non-profit

14

years building The Van Dyke Technology Group, Jacobs' first cyber acquisition

2

master's degrees focused on sustainability

1

hurricane derailed his first post-collegiate job on an architectural site