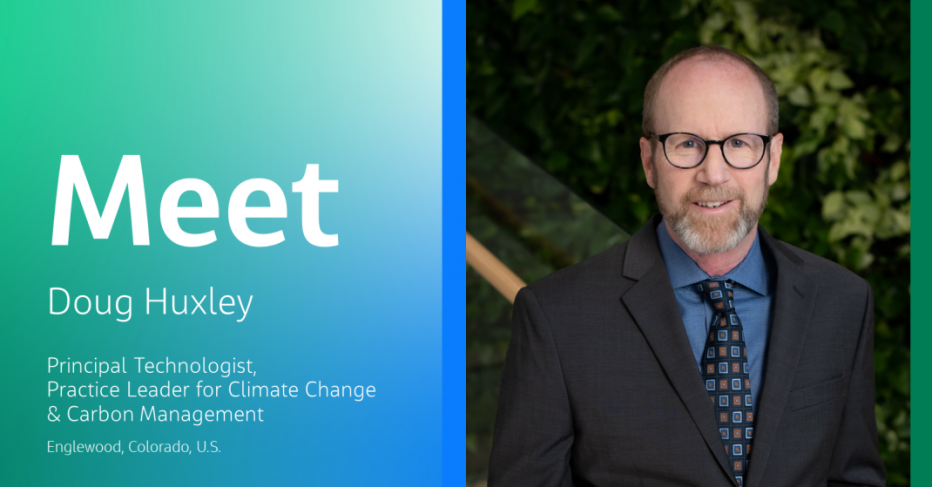 As the Practice Leader for Climate Change and Carbon Management at Jacobs, Doug Huxley addresses some of the most pressing problems for humanity, managing projects and designing sustainable environmental solutions that benefit our clients and the world.
Doug is a leading technical expert on greenhouse gas (GHG) emissions management and a member of the technical working group for two GHG protocol guidance documents, as well as The Climate Registry's Water-Energy-GHG Metrics standard. His background is in chemical engineering, and with Jacobs he delivered contaminated site cleanup, industrial water and wastewater, and environmental compliance auditing, before finding his niches in air quality permitting and, later, with climate change.
Permitting new fossil fuel-fired power plants in the late 1980s inspired Doug's passion for addressing climate change, where he worked against the accepted wisdom to advance new solutions in a changing world. Some of his earliest climate change assignments included support as the air quality engineer on one of the first high-profile environmental impact statements to address climate change in the U.S. for a 1,200-megawatt, coal-fired power plant, and providing technical support to partners from many different industries seeking to quantify and reduce their emissions within the former U.S. Environmental Protection Agency Climate Leaders program.
33

years at Jacobs

250

climate change projects delivered

5

U.S. states he's licensed as a professional engineer in

~

20

M

vertical feet skied

30

mountain peaks greater than 14,000 feet in height climbed (known as 14ers)

-

10

F

the coldest night backpacking
Some of Doug's current projects include development of GHG reduction targets, analysis and disclosure of climate change-related financial risks and opportunities, and industrial/commercial risk and resiliency planning for physical and supply chain risks. Doug is a subject matter expert for Environment and Climate Change Canada, working on a study to develop better guidance and methodologies for predicting or measuring methane flux from landfills, and is the technical representative on an advisory panel for the Government of New South Wales for evaluation of industrial GHG abatement technologies. For MIT's Lincoln Lab, and for UC Davis Health, Doug is leading carbon strategy development to support campus master planning.
He holds a Bachelor of Science in Chemical and Petroleum Refining Engineering from the Colorado School of Mines and is a professional engineer in Colorado, Kansas, New Mexico, North Dakota and Wyoming.
Doug's contributions to Jacobs' climate change programs cannot be overstated. His commitment to environmental sustainability reminds us all of the complexity and consequence of the most difficult questions of our time.