Q&A: Talking with Nishan Dharmatileke, APAC Advanced Data & Analytics Lead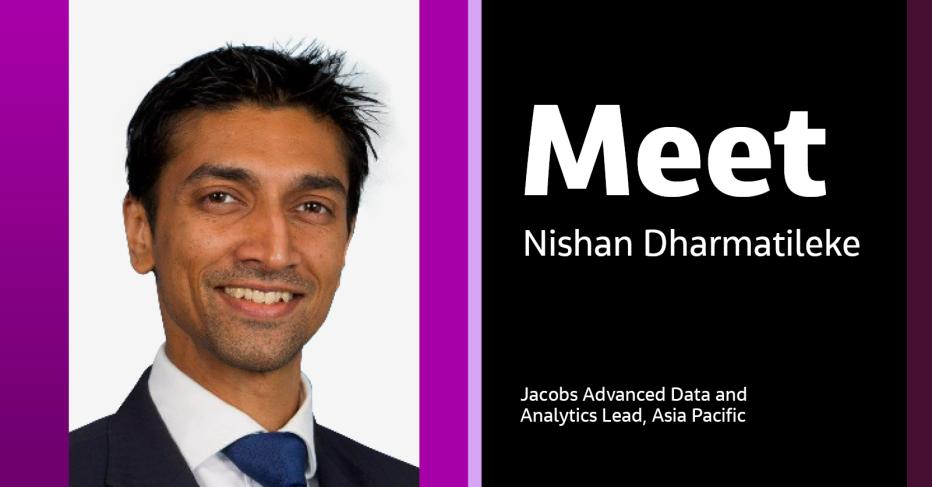 We're living in the era of digital disruption and we need bold digital and technology leadership now more than ever before. Leading this change demands knowledge, imagination, new thinking, an appetite to reinvent and the courage to challenge conventions.   
In this series, we're celebrating our team of digital and technology experts and visionaries, spearheading the development and delivery of our technology-forward solutions for smarter working and better living in Asia Pacific.
For this feature, we caught up with our APAC Advanced Data & Analytics lead Nishan Dharmatileke to talk data and advanced analytics, opportunities and challenges it brings and how we're making the most out of data to solve client challenges around the globe.  
Welcome to Jacobs! Can you tell us a bit about your role and why it was created?
I am the Advanced Data & Analytics Lead for the APAC region, based in Brisbane, Australia. In this new role, I will be working alongside our clients providing digital advisory services to help them unlock business value and realize the full benefits from their data. This includes developing innovative services, solutions and products, leveraging emerging technologies, such as analytics, automation, machine learning, artificial intelligence and cloud capabilities. As part of enabling Jacobs' strategy shift to being a 'technology-forward' solutions provider, this role was created to guide, solve and accelerate our clients' digital transformation journeys.
Tell us about your background and what sparked your interest to pursue a career in this field?
I was born in Denmark and attended international schools before completing my higher-level education in the U.K., obtaining a BSc (Hons) in Management Studies and an MSc in Environmental Science. From a professional career perspective, I have held several consultancy roles, working with clients to design, develop and implement solutions. My interest really sparked when I moved into technology consulting, in the information and data management space. From there, I got more and more immersed with leveraging a range of emerging technologies, with a particular focus on augmenting technologies to create innovative ways to surface and visualize insights from data across disparate sources.  
How has data and advanced analytics evolved and what are some of the unique opportunities this presents?
Fundamentally, the core principles of managing information have not changed that much. What has changed is the exponential growth of data due to the increased number of data generating devices such as sensors, wearables, Internet of Things (IoT), 5G adoption and cloud computing to name a few. Combined with the evolvement of smarter algorithms and faster computer processing speeds, this has enabled analytics to uncover transformative opportunities for organizations to unlock hidden value in big data, network resiliency, compliance, cost savings and informed decision-making.
What are your thoughts on how data and advanced analytics can help solve some of our client challenges?
Data and advanced analytics can contribute significantly toward addressing some of our clients most pressing challenges. This can be in the form of collection, transformation, analysis and visualization of data into actionable insights. Combining our deep domain expertise and industry knowledge with data analytics capabilities, we can help our clients reduce operating costs, extend or modernize the lifecycle their facility or infrastructure, improve energy efficiency as well as enhance safety, data privacy and security.
What are some of the key challenges in leveraging some of these emerging technologies in our industry?
Despite the maturity of some of these technologies, there remains some challenges in leveraging them within the markets we operate in. Investing in the latest digital technology will not necessarily translate into successful outcomes unless there is a clear goal in mind. Poor integration and compatibility of these technologies with legacy tools and platforms can result in not making sense of the data and ineffective reporting. In the absence of hiring top talent with the right skillset and experience, the upskilling of people to adopt a data-driven approach requires effective change management and planning.
Can you share some of the innovative ways how Jacobs is leveraging data and advanced analytics to tackle some of our global challenges?
Jacobs provides digital services and solutions across all our markets – there are plenty of innovations to showcase. To call out a few, we used simulation tools in our Health market to create a digital representation of all the work that occurs within and around a facility to surface insights that reduce key clinical operational metrics.  We have applied predictive analytics on asset operation and maintenance work orders to help optimize the workload of maintenance engineers to resolve issues, while also extending the life of the asset itself. Our team's also used Machine Learning (ML) techniques to predict equipment failures and optimized process efficiency, right through to improving social and environmental resiliency of organizations and communities.
What do you enjoy most in your role at Jacobs today?
No day is the same! I enjoy the variety of work that I am exposed to and collaborating alongside passionate colleagues across the different service lines and regions. Ultimately, what I enjoy the most is the countless connections that I make with my colleagues, our strategic partners and our clients.
What's something you learned in the last week?
NASA recently awarded our team with the prestigious Space Flight Awareness (SFA) Team Award, as part of our  part of the Aerospace Testing and Facilities Operation and Maintenance (ATOM) contract. It was in recognition of our support to quickly respond to anomaly resolution investigation and redesign efforts for the SpaceX Dragon spacecraft.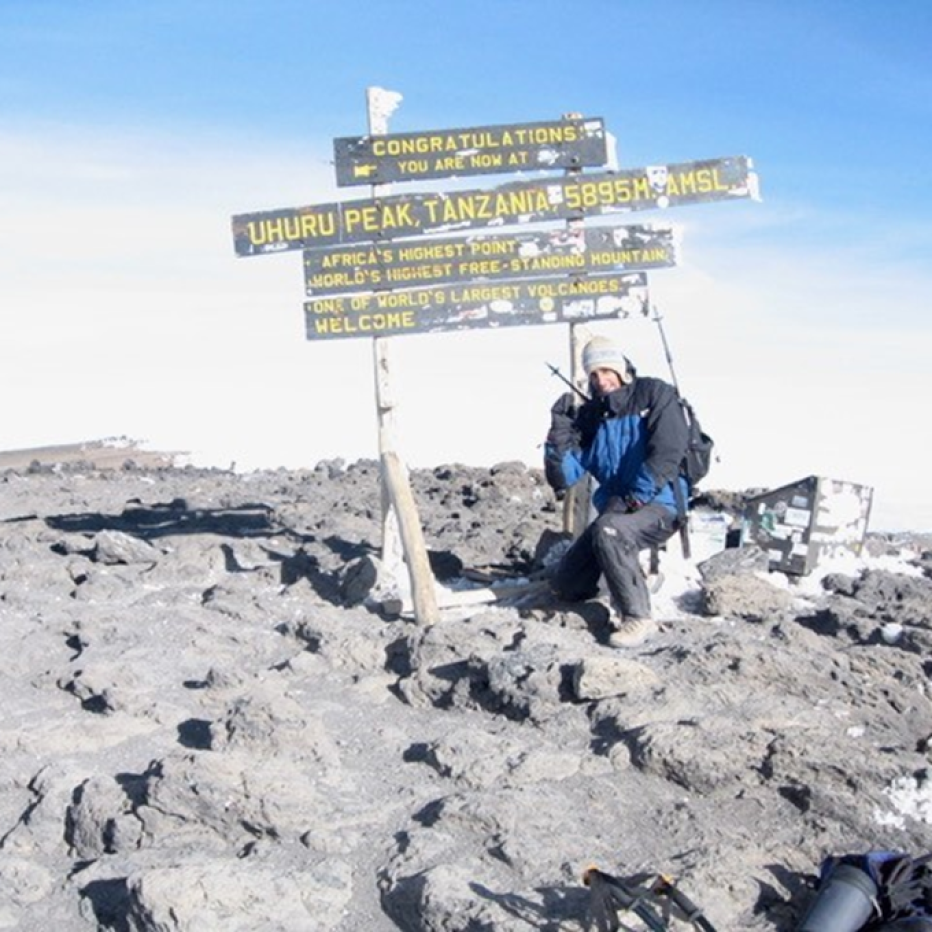 People would be surprised to know that …
Foregoing the usual expectations to celebrate one's 30th birthday, I opted last minute to cancel my party and instead challenge myself by signing up to climbing Mount Kilimanjaro! With only three weeks to spare before flying to Tanzania, my training was just running up and down a flight of stairs, to break in my new boots. Fortunately, for me, had no issues with my feet on the climb and was successful in reaching the peak. Not only was it one of the hardest challenges I have ever undertaken but met some fantastic people that I became life-long friends with, who later introduced me to my wife in Marrakesh, Morocco. That's another story for another day …
What data-driven technologies/solutions are you most looking forward to in the coming years?
Data-driven technologies and innovations play a vital role in connectivity and its relevance is ever-increasing and more interconnected to our everyday lives. What I am most excited about seeing in the coming years is the convergence of technologies from across the siloed markets enhancing connectivity and transcending boundaries.  
Join #OurJacobs team
What drives you drives us as we work to build a better world – together. At Jacobs, every day is an opportunity to make the world better, more connected, more sustainable.
We're always looking for dynamic and engaged people to join our team. Bring your passion, your ingenuity and your vision. Let's see the impact we can create, together.