Q&A: Talking with Megan Ellis, Global Technology Lead for Business Continuity and Emergency Management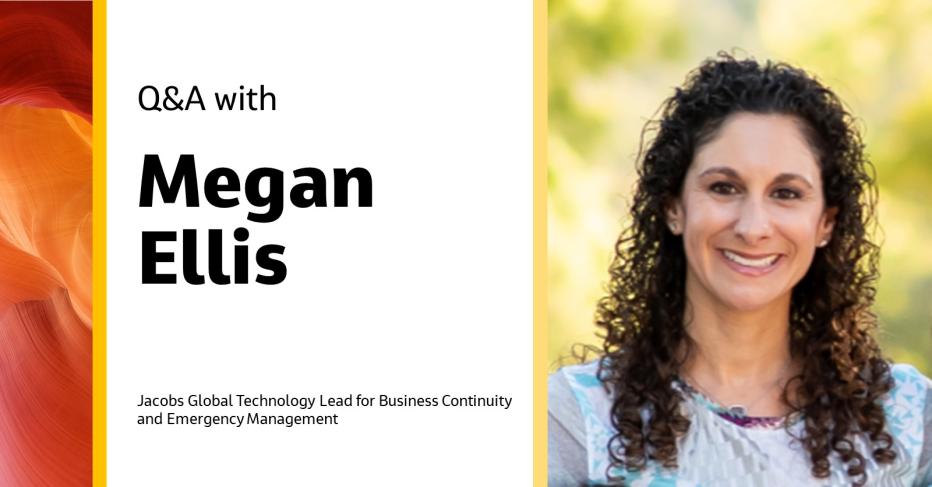 If we learned anything during 2020, it was the importance of understanding one's risks, vulnerabilities and developing continuity plans before disaster strikes. From global emergency management, to business continuity, disaster recovery, protecting against cybersecurity threats and developing business vulnerability and risk assessments, Jacobs Global Technology Lead for Business Continuity and Emergency Management, Megan Ellis, has got you covered.
With nearly 15 years of experience under her belt, Megan has developed emergency response and business continuity plans, has led incident command system trainings, tabletop and functional exercises for private, public and government sectors and has supported several public emergency activations for wildfire and pandemic disaster response efforts.
In honor of International Women in Engineering Day, we're connecting virtually with our team of engineering heroes around the world to showcase their careers and how each of them help Jacobs to live up to our promise of Challenging today. Reinventing tomorrow.
For this feature, we talked with Megan ;about career, the STEAM heroes who inspire her and how she once simulated crashing a corporate jet as a part of her job.
Tell us a bit about what you're working on these days.
Over the last year I have supported projects ranging from pandemic preparedness for a major hospital chain, to ensuring resilience of water infrastructure. In both these instances, I work closely with stakeholders and clients to ensure emergency management and business continuity.
What's your favorite part of your role?
My favorite part of my role is working hand and glove with clients to assess their business vulnerabilities. In doing so, we develop plans to ensure they can manage emergencies and sustain through and recover from business interruptions, fostering a resilient continuity of operations.
We're publishing this article in honor of International Women in Engineering Day and this year's theme is Engineering Heroes. Who are some of the heroes who inspired you to pursue a career in STEAM?
My career in STEAM was a byproduct of my interests in science, public health, and emergency preparedness. You can look at any number of innovative organizations over the years that have fundamentally struggled or overcome major obstacles, like managing through a global pandemic. If I had to cherry pick a few role models of mine, I'd include Florence Nightingale (nursing and statistics), Clara Barton (Founder of American Red Cross), and Eleanor Roosevelt (champion of human rights).
When you think of engineers or engineering as a hero, what does that mean to you?
Engineers are people who look at the world differently and wonder how they can improve things. Whether it is an invention, building a modern marvel, or simply designing a new app, engineers literally allow mankind to shoot for the moon!
If you aren't working, what would we be most likely to find you doing?
When I am not working, I generally am sleeping. I say that a bit tongue-in-cheek because I wear, like most of us, many hats, including helping to care for and raise a family. I also enjoy sports including swimming, skiing, diving, hiking and tennis.
Most interesting career moment?
I have been fortunate enough to experience many interesting career moments - like simulating crashing a corporate jet, anticipating a potential HAZMAT situation (that weeks later materialized – yikes!) and bringing down modern-day production capabilities to cause a realization for the need to train the 'old-fashioned' way using hands on methods. Modeling how an Icelandic volcanic eruption could impact the global supply chain and holding a seat during emergency response as the Business Liaison Lead at the local Office of Emergency Services were also up there!
What would you rate a 10 out of 10?
Landing on the moon, and then returning safely to Earth again. I am looking forward to the NASA Artemis missions!
Most proud career moment?
Being recognized by my peers for innovative problem solving and solution thinking.
What advice would you give to young professionals?
Explore what makes you happy and find a way to get paid doing it.
People would be surprised to know that I….
Keep a pair of running shoes in the truck of my car.
What do you enjoy most about being part of the Jacobs family?
I like the diverse and international team I work with and how we address and solve real client issues that can disrupt major infrastructure that society depends upon.
Join #OurJacobs team
What drives you drives us as we work to build a better world – together. At Jacobs, every day is an opportunity to make the world better, more connected, more sustainable.
We're always looking for dynamic and engaged people to join our team. Bring your passion, your ingenuity and your vision. Let's see the impact we can create, together.