Q&A: Talking with John Blackney, APAC Digital Advisory Lead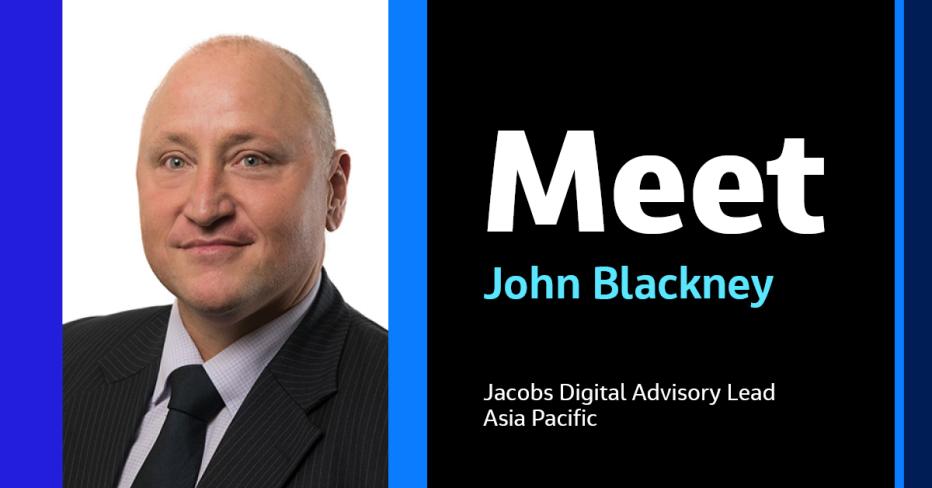 We're living in the era of digital disruption and we need bold digital and technology leadership now more than ever before. Leading this change demands knowledge, imagination, new thinking, an appetite to reinvent and the courage to challenge conventions.
In this series, we're celebrating our team of digital and technology experts and visionaries, spearheading the development and delivery of our technology-forward solutions for smarter working and better living in Asia Pacific (APAC.)
For this feature, we caught up with John Blackney, our digital advisory lead for the APAC region, to talk about how we enable digital transformation, its alignment with strategic business goals and its integration into all areas of our client's business to deliver value.
Congratulations on your recent appointment as Jacobs Digital Advisory Lead - APAC. Can you tell us a bit about your role and why it was created?
I lead Jacobs' Digital Advisory business across the APAC region.
Digital solutions hold the promise of solving the world's biggest challenges. Our clients are increasingly seeking ways to leverage technology innovations to help solve some of their most pressing problems. At the same time, digitization has accelerated a 'perfect storm' of technologies, available at a scale, capability and price points never seen before. My role was created to grow the Digital Advisory capability in the region - to help our clients connect their infrastructure, systems and data to their staff and customers to drive efficiency, revenue, and enhanced customer experience.
Tell us about your background and what sparked your interest to pursue a career in this field?
My early career was in the field of IT and Engineering, which sparked my passion for new technologies. My stint in venture capital made me appreciate that having the best and most exciting technology doesn't always equate to customer value. There must always be a focus on cost efficiency, revenue enhancement or enriching customer experience. This customer-first mindset led me to spend most of my career helping client's embrace new technology that delivers value to their business and their customers.
Tell us more about our digital advisory at Jacobs. What are some of the client challenges we're helping to tackle?
Most organizations are at an early stage in their digital transformation journey. Typically, they are embracing the concept and have several disparate projects in motion. As a part of our digital advisory services, we work closely with our clients to bring all their initiatives together, develop new initiatives using our Beyond If "Innovation as a Service" program, and define a digital strategy and roadmap to deliver against corporate objectives.
Also, many of our clients are looking to develop digital twins – a three-dimensional view of their entire asset base. We help put the foundations in place by leveraging existing Computer-aided design (CAD), Building information modelling (BIM), and digital geospatial assets etc., to create a roadmap of increasing sophistication and benefit from their digital twin including complete technology simulation within the virtual twin. However, at each stage, we ensure that the additional benefit justifies the effort and cost.
What are some of the projects that excite you the most?
To be honest, all client projects excite me, regardless of the project's level of aspiration or complexity. I enjoy working with clients to take the next big steps on their digital journey.
For example, we are looking forward to working with one of our key clients to help them create a geospatial intelligence solution that provides a single 360-degree view of their entire network down to the specific equipment conditions on an asset and advanced insights.
What's something you learned in the last week?
Outside of work, I enjoy being outdoors - building, creating, or fixing things. For instance, I recently learnt how to install a new lawn with a bread knife!
People would be surprised to know that …
I have lived, worked, and travelled in over 60 countries.
Most interesting career moment?
Leading Nokia's consulting business for half the world based out of the Middle East.& The role gave me the opportunity to work with great people and exciting clients in different countries across Europe, the Middle East and Africa (EMEA) and APAC.
What do you enjoy most about being part of #OurJacobs?
Working with passionate, smart, and fun-loving people. The kind who are eager to make a difference and solve the world's greatest challenges.
What is your vision for Jacobs' digital solution over the next five years?&
My vision is to ensure Jacobs is both a trusted advisor and supplier of innovative digital solutions that unlock the power of data and enable digital transformation.