Q&A: Talking with Jo Jeffreys, Collectively Program Manager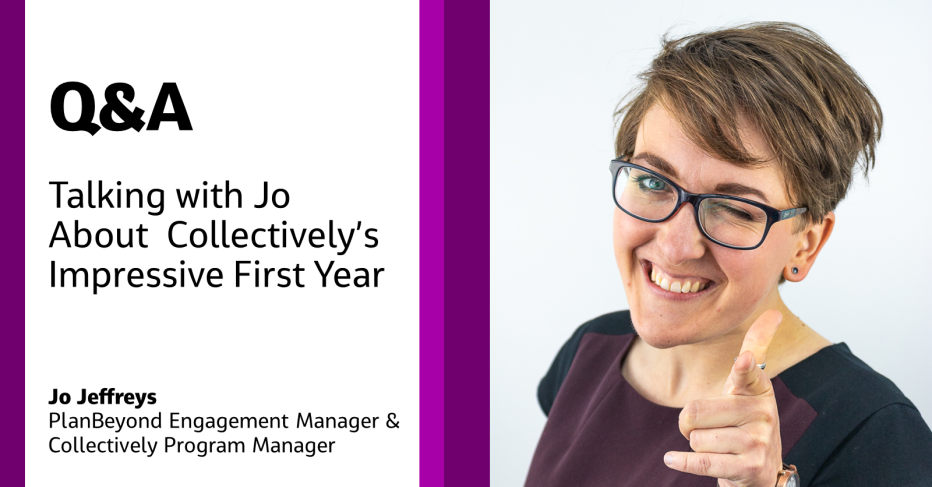 The Collectively℠ program is Jacobs' approach to global giving and volunteering, uniting our 55,000+ visionaries, thinkers and doers in a single platform. Hosted by Benevity, the world leader in employee workplace giving and volunteering, Collectively enables us to amplify the positive impact we make in our communities every day, by supporting more than two million charities around the globe.
June 1, 2021 is the Collectively program's first birthday - and to celebrate one year of Collectively goodness, we've got big plans throughout the month.
To kick off the celebrations, we connected virtually with Jo to talk about Collectively's impressive first year, how the program makes giving and volunteering easier and more impactful, and why rabbits are connected to the Romans.
What's your favorite part of your role?
Seeing goodness flood into my inbox every day! Whether it's achieving a big participation milestone or someone excitedly telling me how many donors have jumped on their fundraiser – it's all these little gems of joy that mark the favorite part of my role. I also love the "oh, I didn't realize it was THAT easy" reactions when people use the platform for the first time!
We're publishing this article as part of the celebrations to mark the successful first year of the Collectively program. Tell us a bit about the program and some of the biggest accomplishments from its inaugural year.
I don't think any of us knew how important it would be to launch Collectively in June 2020. Back then, most of us had been working virtually for a few months and were trying to find our feet with our new normal. We then introduced this brand-new platform to all 55,000 employees, in every corner of the world, at the same time.
We watched people log in with each passing day, getting excited as we crossed the 1,000 mark, then the 2,500 mark. One year in, we're now approaching 10,000 employee log-ins – that's around 20% of our global employee base. Our people can also now be paid for STEAM volunteering, anywhere, at any time. The majority of our employees are set up to give by payroll deduction, meaning they can donate in one click, and the charity receives more of the donation than through any other method (cash aside). And…drum roll please… the biggest news yet is that Jacobs is transitioning to an open matching platform – meaning employee donations will be instantly matched to a charity of our people's choice, from now on!
During the past year, our people have come together and rallied around important causes the world over - from the COVID-19 crisis in India to LGBTQI+ rights. And there has also been a myriad of heart-warming stories in Collectively's first year, from young people being inspired by our employees' exciting career journeys, to a keen group of cyclists riding 100 miles in one day for a local renewable energy charity.
Paid STEAM volunteering, impactful donations through payroll giving, and instant matching to a charity of choice – Collectively really does make giving back so much easier for our people.
Speaking of giving and volunteering, what are some of your favorite causes to donate your time and resources to – and why?
Having sight of all the great giving and volunteering opportunities being advertised across Jacobs makes it really difficult to have a favorite! But there are a few causes close to my heart.
Most weeks I volunteer my time as a qualified jog leader to my local LGBTQI+ running club, Glasgow Frontrunners (GFR). The club is an inclusive safe space for queer people and their allies to pull on their running shoes and hit the road. LGBTQI+ people face so many struggles in life, and GFR is where health & wellbeing and inclusion & diversity perfectly merge. Last year it was an honour to act as President, where the club was nationally recognized for excellence in promoting inclusion & diversity in sport. It was a super proud moment!
Every year I take part in Cycling for Proffitt – a Jacobs-founded cycling group raising funds for three charitable organizations that helped one of our co-workers, Geoff Proffitt, who was involved in a mountain biking accident in which he sustained damage to his spine, and was left with no feeling or movement from the neck downwards. We tackle brutal climbs and long distances over three days in the Yorkshire Dales in the U.K., whilst raising thousands for charity and spreading awareness of spinal injuries. I am generally enticed by sporting fundraisers - in the past few years I've swam open water for the British Heart Foundation, cycled for British Red Cross and Myeloma UK, hiked for Macmillan Cancer Support and a local Hospice, ran for Coppafeel, LGBT Youth Scotland, Glasgow Women's Aid and the Terrance Higgins Trust.
I'm also a STEAM Ambassador, former JEN leader, first aider and am keeping my fingers crossed to be selected as a volunteer for COP26 in Glasgow later in the year. In case you hadn't guessed, I don't like to sit still!
Birthday celebrations are always so fun. What do you have up your sleeve to mark Collectively's big first birthday?
Just in case open matching wasn't enough of a surprise for our people, we're going to be randomly seeding a handful of our co-workers' Collectively accounts with Golden Tickets at the value of $500, for them to donate to a charity of their choice. But our people need to get in there fast, because the Golden Tickets will only sit in their accounts for a week before they're passed to new people, until they're claimed!
Thinking back on Collectively's first year, what are you most proud of?
This one's easy – our Collectively Ambassadors. Before launching, we knew Collectively had no chance of being successful if we didn't leverage the energy of our passionate people at the grass roots level. Collectively is all about bringing our company values to life, and so we had to go and find those people who truly do live #OurJacobs values. And we've found them!
Today, we have a volunteer network of 150 people cutting across 100 offices and all our Jacobs Employee Networks in 17 countries. They come together with enthusiasm, passion and fresh ideas. It's these people who make the magic happen; our Collectively Ambassadors come together make the world a better place.
If you aren't working, what would we be most likely to find you doing?
Grabbing my Garmin and hitting the roads either in my running shoes or on my road bike, and then syncing to Strava (a running and cycling tracking app). I'll also very likely be stopping for a photo at every possible opportunity! Any excuse for a rest…
Most interesting career moment?
Touching a submarine!
What's something you learned in the last week?
It was the Romans that introduced rabbits to the U.K. They apparently brought them across from Italy as pets!
People would be surprised to know that I….
I'm a qualified football (soccer) referee, as well as a former keen player. I once trialled for Scotland, and when I was even younger, I took a penalty and broke the goal keeper's arm!
I've applied to go on The Island with Bear Grylls twice – once reaching a telephone interview stage.
I was recently featured on U.K. national radio sharing my lockdown love story!
What do you enjoy most about being part of #OurJacobs?
You can speak with someone in Brisbane, Delhi, Lyon, New York, LA and Hawaii – all in the same day!
Making global connections is undoubtedly the best thing about working at Jacobs. Plus, you then have contacts to see around the globe when you're travelling!
Join the #OurJacobs team
What drives you drives us as we work to build a better world – together. At Jacobs, every day is an opportunity to make the world better, more connected, more sustainable.
We're always looking for dynamic and engaged people to join our team. Bring your passion, your ingenuity and your vision. Let's see the impact we can create, together.