Q&A: Talking with Jerwin Gutierrez, Senior Civil Engineering Professional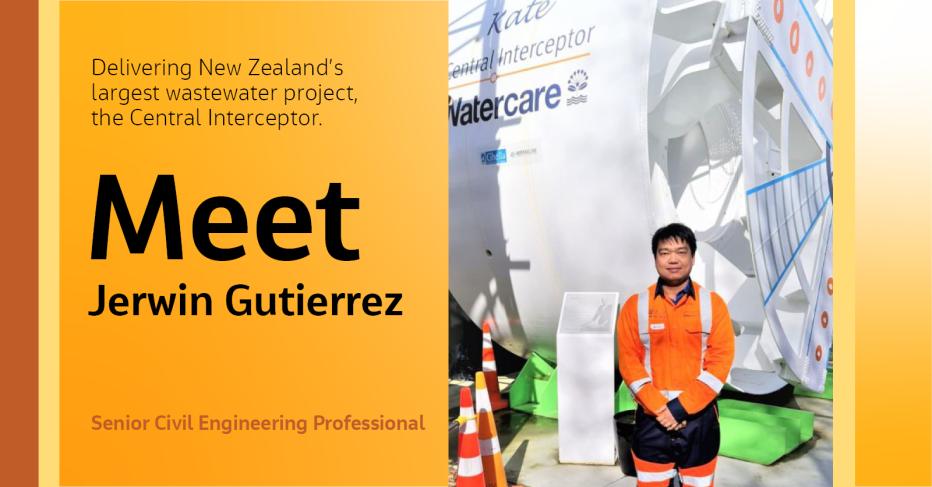 At Jacobs, we think differently about the future because today's challenges demand innovative approaches to deliver a more connected, sustainable world. With a fierce commitment to the spaces we inhabit, both globally and environmentally, we're continually reinvigorating our efforts to be responsible stewards of the natural world, as we contribute forward-thinking sustainable solutions for our clients.
In this series of Q&As, we're getting to know members of our Jacobs team working on the iconic Central Interceptor project, the largest wastewater tunnel in New Zealand, to deliver healthier waterways and beaches for Aucklanders.
This time, we asked Jerwin Gutierrez about his role as lead tunnel engineer on the Central Interceptor project, what it's like delivering such an iconic project and what he enjoys most about being part of #OurJacobs.
Tell us a bit about yourself and your career with Jacobs so far.
Looking back at my career, I started as an inspector for civil works and deep tunnels with Jacobs (then CH2M) in Abu Dhabi, United Arab Emirates in late 2008.
I've come a long way from my Middle East experience to help Jacobs, in partnership with Watercare, to administer, supervise and deliver New Zealand's first large-sized deep wastewater tunnel, Central Interceptor, as a lead tunnel engineer.
What got you interested in a STEAM career?
I used to play with Lego during my early childhood days and I was always fascinated with how structures are built. Growing up, I realized that I could make a difference by helping construct iconic structures, especially deep underground works normally not seen by the public.
Tell us about your role on the Central Interceptor project.
Every day on the site is exciting, especially when you know that you're part of an iconic project like the Central Interceptor, leading a site team of tunneling engineers, making sure that we're constructing the tunnel according to the design. My ultimate goal is to make sure that my team and I get home safe to our families at the end of each shift.
Jacobs' ability to mobilize talent globally sets us apart in our industry. Can you tell us more about this in the context of this project?
I've relocated three times in my nearly 13 years with Jacobs, after completing at least two large scale programs in the gulf – the Strategic Tunnel Enhancement Programme (STEP) in the UAE, and the Inner Doha Resewerage Implementation Strategy (IDRIS) in Qatar. Central Interceptor is my third deep tunneling project to add to my experience of 130 kilometers of combined deep tunnels (3 meters to 5.5 meters in diameter) and link sewers of various diameters, constructed with various types of about 500+ shafts. I'm living proof of the company's diverse talent and how my expertise is being valued.
What has been your most memorable moment delivering this project so far and why?
On July 31, 2021, I participated in a very successful open day to showcase Central Interceptor to the public. I took my wife and two children to the main worksite at Mangere Pumping Station - they were amazed to see the real size of the Tunnel Boring Machine in the 25-meter shaft. I was really proud when they finally realized how different the nature of my work is.
What has been the most challenging part about delivering this project and how have you overcome this?
During the early stages of the project, at the time of the COVID-19 pandemic, we faced government restrictions that created unique challenges to progress. Working collaboratively with the client, Watercare, and side by side with the contractor's team was a key factor to overcoming this.
What's the next exciting project milestone you're looking forward to? 
Working underground has its share of favorite work moments – personally, I'm looking forward to when the tunnels cross underneath the seabed of the Manukau Harbour.
Tell us about your proudest career moment.
In 2016, when I was awarded by Jacobs in the Middle East region for my health and safety contributions.
If you aren't in the office or on-site, what would we most likely find you doing?
Spending time with friends and family whilst collecting rare sneakers and playing basketball.
What do you enjoy most about being part of Jacobs?
Living Jacobs' approach to health and safety, BeyondZero, every day - both inside and outside of work. I also appreciate having mentors that value my expertise, my well-being and that of my family's.
Join #OurJacobs team
What drives you drives us as we work to build a better world – together. At Jacobs, every day is an opportunity to make the world better, more connected, more sustainable.
We're always looking for dynamic and engaged people to join our team. Bring your passion, your ingenuity and your vision. Let's see the impact we can create, together.