Q&A: Talking with Jacobs Vice President and Deputy General Manager Dr. Lisa Monaco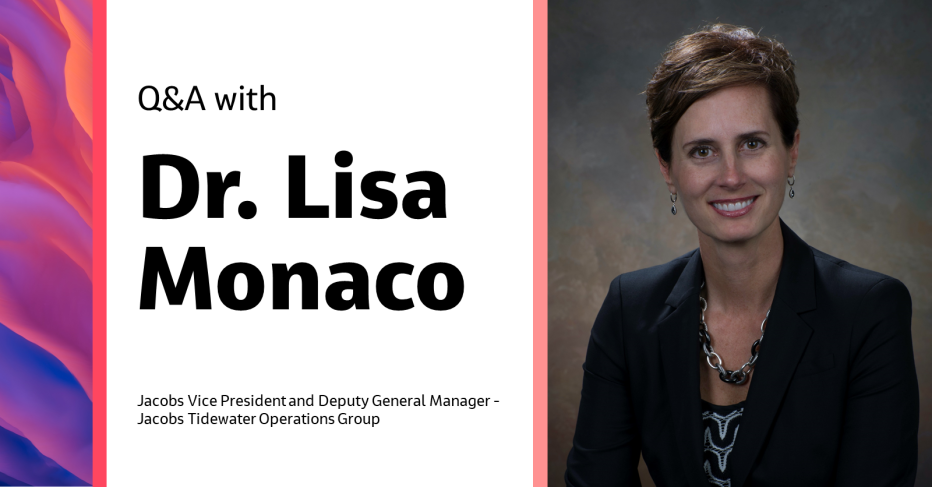 Jacobs Tidewater Operations Group (JTOG) provides a variety of services to customers, including NASA's Langley Research Center, where we maintain, support and enhance space program prototype testing in wind tunnels, laboratories and test ranges.
JTOG also conducts atmospheric research and technology testing in aviation safety, quiet aircraft technology, small aircraft transportation and aerospace vehicle systems. Our extensive suite of provided services touch almost every aspect of work performed at Langley. Recently, JTOG began to also support NASA Wallops Flight Facility and the Navy Surface Combat Systems Center (SCSC) on the Eastern Shores of Virginia, presenting an exciting opportunity to help both NASA and the Navy with their missions by keeping their buildings and facilities at their operational best.
For this feature, we talked with Dr. Lisa Monaco, vice president and general manager of Jacobs Tideway Operations Group about her career, the STEAM heroes who inspire her and what it's like to watch a night launch at NASA's Kennedy Space Center.
Tell us a bit about what you're working on these days.
Our Jacobs team has been very engaged in supporting NASA's Langley Research Center in Hampton, Virginia. Because a lot of our work there is Operations and Maintenance (O&M), we were among the first personnel to return to onsite work there during the pandemic.
Eventually our engineering, construction and then wind tunnel (WT) test engineers and technicians followed. Recently, we tested three major components for Artemis in three separate wind tunnels. Our on-going WT testing also supports the U.S. Army, Air Force and commercial clients. We also just expanded our support to include O&M at Wallops Flight Facility supporting the NASA mission, and that of the U.S. Navy. Every day is a new day, with new challenges.
What's your favorite part of your role?
I find that engaging with people is the best part of my role as the deputy General Manager, along with getting to learn everyday about technical problem solving. I get to work with an Innovation Task Team to bring our promise of "Challenging today. Reinventing tomorrow" to life, and that always leaves me feeling energized. I really love interacting with our Jacobs talent over all levels of their careers and especially like mentoring our high-performing team members that strive to learn and grow professionally and personally. It seems I am always formally and informally mentoring university students, JTOG team members, Critical Mission Solutions team members and others.
Who inspired you to pursue a career in STEAM?
Going back to my childhood, I would say my mom and dad always encouraged me to seek answers to the many questions I had. This really taught me to question what I did not understand, look for answers, and feel comfortable with speaking up. When I got to high school, I was fortunate to have an advanced chemistry teacher who also happened to be the first woman chemist ever hired by Gulf Oil near Pittsburgh, Pennsylvania. She led me to love the study of chemistry, and really served as a role model for me as a young female. She was smart, knew her material, had great experience to share, and was a quiet and an unassuming role model. We stayed in touch well after high school, and as time passed, I grew to admire her and her accomplishments even more.
If you aren't working, what would we be most likely to find you doing?
Most likely, I'd be doing some type of physical activity… working out, working in the yard or garden, exploring a new place, or checking out a new restaurant.
Most interesting career moment?
Realizing that no matter who you are, or what your background is, that you can contribute and bring value in unique ways.
What would you rate a 10 out of 10?
Family dinners.
Most proud career moment?
I really got a thrill out of standing at Kennedy Space Center and watching a nighttime launch that would carry an experiment that I was involved with to the International Space Station (ISS). I had the privilege of leading a team to develop novel hardware for use on the ISS. We started with an idea and eventually became a team of 65 people that worked for over a decade to develop microbial monitoring hardware for use on the ISS.
What advice would you give to young professionals?
Engage. Stay curious. Challenge the norms. Find your voice. Say "yes" even if you feel uncertain and challenged. Be authentic. Embrace change. Network. Mentor and be mentored. Seek to be the best you, that you can be. Have fun!
People would be surprised to know that I….
Enjoy model railroading.
What do you enjoy most about being part of the Jacobs family?
I would say having the opportunity to learn every day and meet people from across the entire company.
Join #OurJacobs team
What drives you drives us as we work to build a better world – together. At Jacobs, every day is an opportunity to make the world better, more connected, more sustainable.
We're always looking for dynamic and engaged people to join our team. Bring your passion, your ingenuity and your vision. Let's see the impact we can create, together.