Q&A: Talking with Jacobs Director of Project and Construction Management Infrastructure for Northern California Liz Wiecha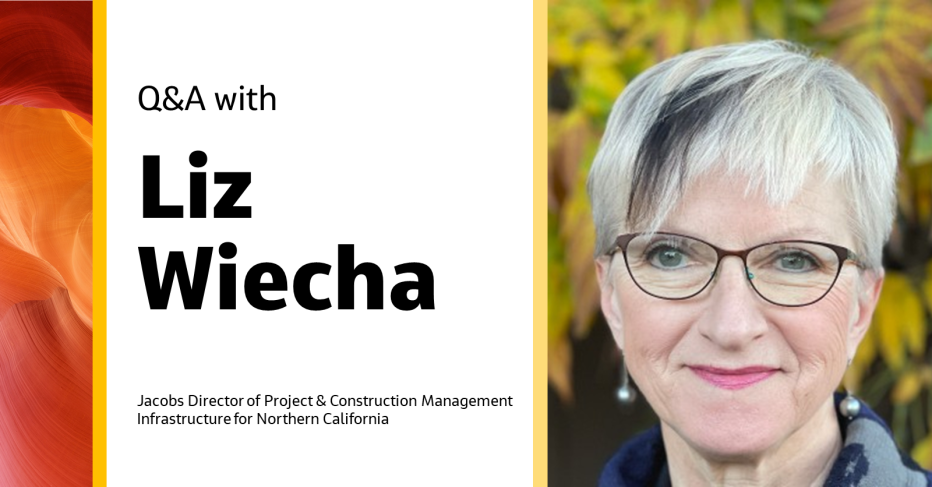 Quite possibly the newest team member that we spoke with for International Women in Engineering Day, Liz Wiecha is already making waves as Director of Project and Construction Management (PMCM) Infrastructure for Northern California, having been part of #OurJacobs family for just five months.
The criticality of the infrastructure industry demands skilled and knowledgeable talent who will continue to take innovative approaches and provide environmentally friendly solutions to create and maintain world-class transportation infrastructure. And this is where Liz comes in.
In honor of International Women in Engineering Day, we're connecting virtually with our team of engineering heroes around the world to showcase their careers and how each of them help Jacobs to live up to our promise of Challenging today. Reinventing tomorrow.
For this feature, we talked with Director of PMCM Infrastructure for Northern California Liz Wiecha about career, the STEAM heroes who inspire her and who she thinks has the imagination to transform the unimaginable into reality.
Tell us a bit about what you're working on these days.
I'm based in Oakland, California, and am focused on strengthening Jacobs' presence in the Northern California transportation market. I provide project execution oversight and partner closely with our client account managers to foster client relations, position us for future work and help provide career advancement opportunities for our staff. My responsibilities include supporting pursuits, proposals and interview preparation, as well as delivery and project performance.
What's your favorite part of your role?
The opportunity to mentor and sponsor staff and work with emerging talent. They are the ones who will take the industry and our company into the future.
We're publishing this article in honor of International Women in Engineering Day and this year's theme is Engineering Heroes. Who are some of the heroes who inspired you to pursue a career in STEAM?
My mother and grandmother are two heroes who inspired me to pursue a career in STEAM. My mother has an MD and PhD and spent much of her career doing research in neuropathology, while my grandmother was an educator and political activist.
The life and legacy of Marie Curie has also provided encouragement and inspiration.
When you think of engineers or engineering as a hero, what does that mean to you?
People who have the perseverance and imagination to transform the unimaginable into reality.
If you aren't working, what would we be most likely to find you doing?
I love to spend time with horses and ride, especially my horse Laney Frost!
Most interesting career moment?
When one of my former teammates became a client.
What would you rate a 10 out of 10?
My philosophy in life is to make every day a 10 out of 10.
The experiences that stay with me include spending time with my husband doing various activities like rock climbing in Yosemite, traveling throughout southeast Asia and diving in the Similan Islands. Other highlights include horseback riding in the Big Horn mountains and working cattle with my horse Laney at the V6 Ranch in central California.
Most proud career moment?
I'm excited and inspired when I see former mentees grow into project managers and excel in their careers.
What advice would you give to young professionals?
There are a few pieces of advice I'd share:
Plan your future, take chances, follow your heart and go for it!
Take care of your whole being: mind, body and spirit.
Continue to learn and grow both professionally and personally throughout your life!
People would be surprised to know that I….
Took time off from my studies and worked as a welder.
What do you enjoy most about being part of the Jacobs family?
I enjoy the people, our focus on diversity and inclusion and our goals to help build a sustainable future for all.
Join #OurJacobs team
What drives you drives us as we work to build a better world – together. At Jacobs, every day is an opportunity to make the world better, more connected, more sustainable.
We're always looking for dynamic and engaged people to join our team. Bring your passion, your ingenuity and your vision. Let's see the impact we can create, together.