Q&A: Talking with Dr. Monica Wright, Sustainability and Air Quality Senior Technologist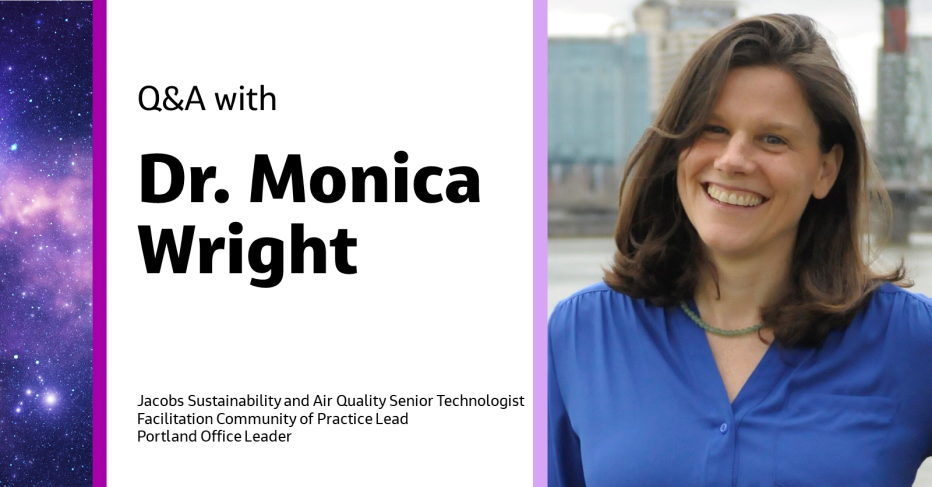 In honor of International Women in Engineering Day, we're connecting virtually with our team of engineering heroes around the world to showcase their careers and how each of them help Jacobs to live up to our promise of Challenging today. Reinventing tomorrow.
For this feature, we talked with Dr. Monica Wright – a senior air quality technologist, facilitation community of practice lead and Portland office leader – about career, the STEAM heroes who inspire her and getting comfortable being uncomfortable.
Tell us a bit about what you're working on these days.
My current client work is centered on workforce development and co-creation of a local air quality management framework with The Blueprint Foundation. We are kicking off this project after Blueprint received a Portland Clean Energy Fund Grant. Rodrigo González-Abraham, another air quality technologist, was a key member of our grant writing team.
I am excited to advance our understanding of how community air monitoring coupled with chemical transport modeling can improve air quality in environmental justice communities with this pilot project. I am also excited to help increase the diverse pool of air scientists and engineers.
I am also working with our amazing office team in Portland to reopen the office after over fifteen months. Our Health, Safety & Environment (HSE) lead Greg Frick; our Facilities lead, Josh Armitage and his team; Ron Klint and our local IT team and our admins led by Ginny Watson may all have superpowers! I am new in the office lead role and I am excited to learn and create our unique Portland story as we navigate this opportunity to rethink and redesign how we work along with the rest of Jacobs.
In my role as the Community of Practice (COP) lead for Facilitation, I have been delivering the first pilot of the Foundations of Facilitation class. The planning and class materials for the training are a labor of love from Bo Storozuk and Rachel Pronin who co-lead the CoP with me. We are halfway through the training and I'm so impressed with the Jacobs team that has stepped up to take the class in preparation for training more colleagues.
What's your favorite part of your role?
I like many things about my job: working with so many passionate air quality professionals, helping our clients work through sustainability and regulatory problems, and delivering projects that aim to address environmental justice challenges. I also really enjoy the facilitation community of practice work because even with over seven hundred members, it still feels like a community and it brings me a dose of laughter at least once a week when we have our lead check-ins.
As someone who needs to learn new things on a regular basis, I know that working with interns and new hires is my favorite part of my job. They bring a creativity and fresh perspective that challenges me to get uncomfortable. I learn so much from explaining a task and then listening to the kinds of questions that come up and seeing how different people interpret what I've asked for.
Right now, I am a senior advisor to the Smart Application for Modeling (SAM) team that requested innovation and development funding. This is an idea that has evolved over several years in big part because of the energy and new perspectives our air quality interns and newer air engineers. SAM is better because the development team incorporates experience with fresh ideas. When we are working together across experience levels and disciplines what is possible expands.
We're publishing this article in honor of International Women in Engineering Day and this year's theme is Engineering Heroes. Who are some of the heroes who inspired you to pursue a career in STEAM?
First on my list is my mom, Virginia. She endured engineering and grad school as the only female in her program and worked as a computer engineer and Fortran programmer with NASA. She taught me to show up for the hard work and the value of 'uncomfortable' while always holding a judgment-free space for me to work through challenges. My mom also raised five kids and made sure we always ate dinner as a family every night and composted, reused or recycled everything we could (way before sustainability was cool). She emphasized the impact we have on people and planet and the need for us to consider others and resources in a way that was counter to the consumerism and waste culture then. I'm so grateful that she helped cultivate in me systems thinking and comfort in the uncomfortable. I was drawn to atmospheric chemistry because working through the challenges requires seeing the connections between molecules on the small scale and the implications of reactions on a local, regional, and global scale. Not being able to hug her (and my Dad) through this pandemic has been pretty rough!
Another hero is Dr. Bojan Hamlin Jennings. She was an emeritus organic chemistry professor when I was in college. Even though she was mostly retired, she met with organic chemistry students and held dinner parties where students gathered to discuss scientific research articles and innovations in science – often with the author present. These dinners and the conversations expanded my view of what was possible. This exposure to not only the successes but the discovery process where a failed experiment sparked an idea and unexpected results inspired curiosity absolutely influenced my path. Dr. Jennings was a master motivator and during her memorial service in 2015 over one hundred and fifty people indicated they became chemistry majors because of her influence.
Finally during my PhD research, I worked with a local high school student named Amy Tang who wanted to study air quality for her science fair project. Amy brought questions and ideas and creative ways to test the variables related to her hypothesis. Through her approach and our conversations, I was reminded to really challenge my assumptions, to reevaluate best practices on a regular basis – because if you do not then you might miss out on the ;next practices. I still ask myself: "what angle did I not look at? What voice is missing?" in my work. I don't think Amy even knows how much that science fair project impacted how I work. Amy has gone on to work on strategy at Google. No doubt she is still asking those critical questions.
When you think of engineers or engineering as a hero, what does that mean to you?
To me heroes are people who put their own needs, safety, or successes aside to address a community or social need. Heroes are not always the people in the spotlight. The work of engineers is part of the infrastructure of society. From the devices we use to virtually connect with family and friends to the airplanes we take to see people in person, engineers play a part in how the world works, plays, lives, connects and embraces each other.
The public may not see the contract discussions, the late nights and epic work sessions to get out packages – the planning and workshopping of designs, the books of regulatory and permitting documentation, or the teamwork it takes to finish a project. They probably didn't hear the sparks of innovation or the intentional effort it takes to embed sustainability or challenge the status quo or the quality checks and rechecks – they just see the finished bridge, the smartphone, or the use the 5G signal and may not realize that a team of heroes made these things possible.
If you aren't working, what would we be most likely to find you doing?
Being a mom to my two kids. Making cookies. Hiking, camping, walking the dog and hopefully soon hanging out with family and friends in person.
Most interesting career moment?
I have been learning so much from my colleague Jameson Morrell Heis, Jacobs' global technical lead for the climate action and sustainability market. In 2016, he was a guest speaker at an industry event I helped organize. He presented on sustainability and a process that was then called 'Next Generation'. That presentation and the subsequent collaborations altered my path significantly. Seeing all the ways our work connects across the value chain made it so clear why we need to avoid siloed thinking and use smart collaboration to address the climate crisis. I'm still learning more ways to consider how connective thinking can unveil new solutions.
Now this idea Jameson presented on is called ESG (Environment, Social and Governance) and financial markets have caught up to what Jameson has been saying for decades – these things are financially material.
What would you rate a 10 out of 10?
Our Portland office employee networks and Beyond program teams. Not only are they award-winning (BeyondZero and PlanBeyond are award winners two years running) but they kept people connected through movie nights, virtual happy hours, Jackbox games, coffee time and so many other acts of care and kindness throughout the pandemic. Someone is always working on the next event, asking the hard question and pondering how we improve. It's a joy to rethink engagement in the office and in the community with these people.
Also the ESG dive team that Jameson has started. They dig in and work to understand what our clients want to achieve and where we can help them with these ESG goals. Applying this data to our proposals and how we work will be a game changer for our clients and the planet.
Most proud career moment?
I like to think I'm still working towards my proudest and biggest accomplishment. But as a former teacher, working with interns makes me proud – inspiring them to join the field, helping them start their career journey with all the lessons learned from those who came before them and watching them take it even further.
I'm incredibly proud of my work with The Blueprint Foundation. Their workforce development program not only provides Black youth with in-demand engineering skills but makes them advocates for action on climate and a just transition who create the solutions to issues that affect their own communities.
What advice would you give to young professionals?
Ask questions, find your crew, give and accept support. Get involved in something beyond the billable. Challenge yourself to get uncomfortable. Consider what voice is missing before making decisions that impact others.
People would be surprised to know that I….
…was a white water rafting guide and have taken crews on many rivers across the United States.
I also was a high school science and math teacher for almost a decade before going back to graduate school and started taking virtual Irish dance lessons during the pandemic – learning eight dances since September!
What do you enjoy most about being part of Jacobs?
Getting to challenge and reinvent with so many inspiring, curious, dedicated and talented Jacobs people and clients.
Join #OurJacobs team
What drives you drives us as we work to build a better world – together. At Jacobs, every day is an opportunity to make the world better, more connected, more sustainable.
We're always looking for dynamic and engaged people to join our team. Bring your passion, your ingenuity and your vision.Let's see the impact we can create, together.