Q&A: Talking About the Energy Transition with Technical Director for Energy Markets Walter Gerardi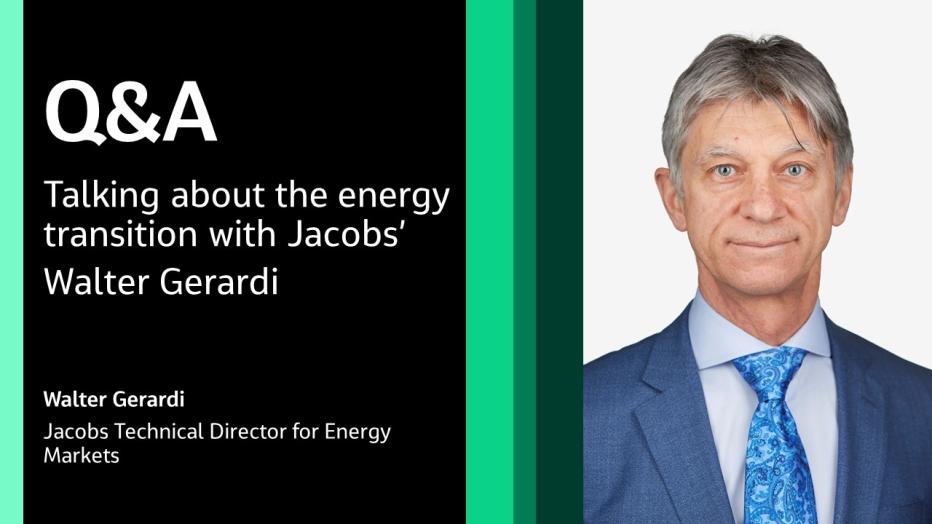 You're Jacobs' Technical Director for Energy Markets. Tell us a bit about that.
As Technical Director, my role is to provide advice and oversight on our projects, as well as coaching staff on various technical aspects to help our clients realize new opportunities and solve the challenges they face. One way I do this is by using quantitative analysis of how the future of energy markets will evolve, and how the energy sector will transition to a low-carbon world.
What's one thing you wish people knew about your role and its impact on the world today?
Over the past two decades energy systems have moved away from extensive government involvement and ownership and a high level of "central planning," to a model where outcomes are driven by established trading markets – think of wholesale electricity markets now operating in many countries. This evolution requires a different mindset and an understanding of how investment occurs in the sector, and how systems operate given the incentives provided by "market-based" systems. This is why modelling exercises are so important to the future of energy.
Modelling provides insights into how policies and reforms will impact the sector, and how to limit any adverse impacts. Good modelling means involving people with a range of skills. Ensuring we have the right mix of skills in all the studies we undertake is a big part of my job.
With COP26 just around the corner and the world focused on the decarbonization agenda, your role sounds very relevant. What would you say is one of the biggest challenges to achieving net zero emissions?
There are many challenges – a few that come to mind include the limited adoption of decarbonization to date, accelerating the pace of decarbonization and improving productivity of a decarbonized energy sector.
There is also the challenge that significant capital is invested in our current infrastructure, so large investment and careful planning will be required to change this to a net zero carbon energy system. It will need a coordinated approach from multiple stakeholders to make this change. They will also need to consider energy equity so there's fair access and pricing that will not disadvantage some parts of society.
Another big challenge is getting people to understand what it will take to achieve a zero-carbon energy system – both in terms of the policies and actions required. The good news is the past decade has taught us what not to do, and we've learned a lot about how to design policies to minimize any adverse impacts on consumers.
But we have seen some positive developments over recent years. In many developing countries decarbonization efforts in the electricity sector have been driven by the declining cost of renewables. For example, in Australia renewable electricity has increased from approximately 8% of the total generation mix in 2010, to approximately 25% in 2021.
We hear you're speaking at the World Climate Forum Europe this month. Can you tell us about the session you're involved in?
The session I'm participating in is about the energy transition and circular economy. As I have said before, there are many challenges facing the sector as it transitions to a low carbon economy, so it will be interesting to participate in a discussion about how this will evolve.
The real challenge is maintaining the productivity of the sector. I see the concept of the circular economy – the idea of designing waste out of the system and using resources more efficiently – to be an important part of improving productivity overall.
So clearly there's a big opportunity to integrate circular economy thinking into the energy transition. Can you tell us more about that?
There are many aspects to consider, but a few simple highlights include:
Solutions that reduce the cost of an energy transition by using resources more efficiently.
Improving the value of resources through energy.
Utilizing the behind-the-meter renewable resources through mini-grids that enable more optimal use of distributed resources to meet local energy needs.
Improving the returns to the distributed energy source and reducing costs to consumers.
What are your thoughts on technologies such as nuclear which are "green" (they don't produce emissions), but do produce waste, so aren't typically considered renewable?
We're supporting some interesting projects in this space, including the development of small modular nuclear reactors and advanced modular reactors. Alongside larger gigawatt reactors, modular nuclear technologies can play a role in reducing the cost of transitioning towards 100% zero carbon technologies. Of course, other technologies are competing for this role, but where nuclear is a viable option, it could be a game changer for the energy transition.
Do you have any thoughts on the debate around how much we should still rely on fossil fuels like natural gas?
There has been a lot of debate around the role of natural gas moving forward, and it seems like much of the dialogue is about our energy systems. Our modelling shows a diminishing presence for natural gas going forward, but this does not mean it is not important or that it won't have a transitionary function. It still may have a major role in transitioning towards 100% renewable energy, as a backup option for those times when solar and wind are not available.
And finally, beyond your presentation at the World Climate Forum Europe, what are you most looking forward to about attending the forum?
I am looking forward to hearing other perspectives about the transition to a zero-carbon economy. It's a huge subject area and one with many challenges – the sort of area where we need to understand alternative perspectives. Basically, I'm interested in learning something I did not know!
When you're not thinking about the energy transition (which we're sure is all the time!), what will we most likely find you doing?
I have a passion for walking, especially bushwalking, because I love the sense of space as well as the different perspectives I get. I'm doing lots of walking training in anticipation of when international travel will be allowed again – I'm aiming to walk the Dolomites when that's allowed.
Apart from that I'm passionate about food and cooking, as are a lot of people!
The World Climate Forum Europe 2021 event took place on June 29 2021. If you're interested in listening to Walter's presentation on "Powering Europe – Developing a 100% Renewable & Integrated Energy System" then catch up here.