It's Like Resolving a Complex Puzzle: A Q&A with Jorge Anaya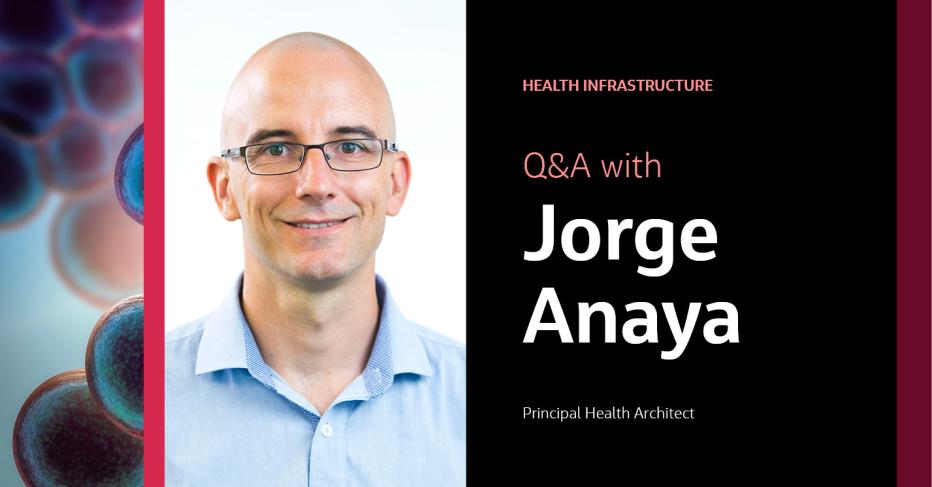 Having recently "crossed the ditch" to lead our growing health team in New Zealand, we caught up with Jacobs Principal Health Architect Jorge Anaya to find out how he's settling in, what's keeping him busy these days and what it's like working to solve the healthcare "puzzle."
Let's talk with Jorge:
Hi, Jorge. Can you tell us how the work you do is helping deliver Jacobs' strategy?
Health is a key market in Jacobs' growth strategy and what I do is a part of that. In our day to day, we're not only delivering new health infrastructure, but we're also using the accelerators to grow our role as trusted advisors for some of our key clients. We're bringing into the conversation what climate change means for new health infrastructure and supporting our clients to make better decisions by helping them implement better data driven solutions.
Tell us what you're working on these days.
I recently relocated to New Zealand to grow our local health practice. Right now, I'm working on a few early planning exercises in different locations throughout the country and three mental health facilities. I also support the work we are doing in Australia from time to time.
What led you to a specialty in healthcare design?
I leaned toward health architecture because of the opportunity to make a positive impact on people's lives, the unique design challenges, the collaboration with diverse professionals and the evolving nature of the field. Plus, the high demand for healthcare design that means we never get a boring moment at work!
How does what you do contribute to improved health outcomes for communities?
Our work improves the health outcomes for our communities by creating safe and accessible spaces, promoting healing and recovery, supporting efficient and effective care, encouraging healthy behaviors and addressing health disparities.
What is the biggest trend you're seeing in healthcare design right now and how does this impact what you do?
One significant trend in healthcare design is the shift towards patient-centered care and the creation of healing environments. This significantly impacts the work of health architects. We are challenged to create spaces that prioritize patient comfort, privacy, flexibility and integration of technology, while also considering infection control, sustainability and wellness aspects. By considering these factors, health architects contribute to enhancing the overall healthcare experience and improving patient outcomes.
"We are challenged to create spaces that prioritize patient comfort, privacy, flexibility and integration of technology, while also considering infection control, sustainability and wellness aspects. "
Name one critical success factor for any healthcare design project.
It's difficult to select only one. I think stakeholder engagement at all levels is critical for the project to succeed and also to be perceived as a success once completed, but if I have to choose one, I think it would be a strong planning foundation.
Thorough and comprehensive planning is essential for any healthcare infrastructure project. It involves defining clear project objectives, assessing the needs and requirements of the target population and, most importantly, translating them into physical space requirements and infrastructure plans that are realistic and define a clear vision, while keeping enough flexibility to respond to changing requirements.  
What is your favorite part of your job?
I think it's the challenge to resolve this complex puzzle. How to create spaces that protect and nurture their future users while allowing clinicians to deliver the best healthcare. Spaces that feel simple and hide all the intrinsic technical aspects of any healthcare space.
What has been your most interesting/proudest career moment to date?
I think it was when, two years after we finished a project, I ran into a doctor who had fought hard during the stakeholder engagement process about the need to balance functionality and patient/staff experience. When we crossed paths again, they told me that now, after two years working in the new facility, they understood the impact that the built environment has on them and on their patients and thanked me for the decisions we took.
When you aren't working, what would we be most likely to find you doing?
Usually hiking (I should probably say walking as hiking sounds too ambitious!) or building something at home with my own hands.
You mentioned you recently moved to New Zealand. How are you settling in so far in Christchurch?
It's been a great experience so far. It's exciting to be here getting to know our clients better and growing our local capability. I'm enjoying getting to know the city and going out on the weekend to explore some of the best landscapes New Zealand can offer. Jacobs has been working here for many years and I've often been in New Zealand for work, but I've never had the time to enjoy it. Now I do!
What does our tagline "Challenging Today. Reinventing Tomorrow" mean to you?
It means not accepting the things are just because. It's about defending what we think is right now, so we make an impact in the future.
What do you enjoy most about being part of #OurJacobs?
I think it's all the different expertise that I can find within the company and the possibilities that this opens up. I'm always excited to find people with very specific, niche areas of knowledge and how, by leaning into that expertise, we can improve the work we do in healthcare.
About the interviewee
Jorge Anaya has delivered a diverse portfolio of health projects, spanning early master planning right through to construction, across New Zealand, Australia and the Pacific. His strong design background and highly consultative and collaborative approach delivers substantial value at the initial design phases of any health project.
Join #OurJacobs Team
What drives you drives us as we work to build a better world – together. At Jacobs, every day is an opportunity to make the world better, more connected, more sustainable. We're always looking for dynamic and engaged people to join our team. Bring your passion, your ingenuity and your vision.