Sustainable, Safe and State-of-the-Art: Biocon Biologics' New Bangalore Facility Receives Recognition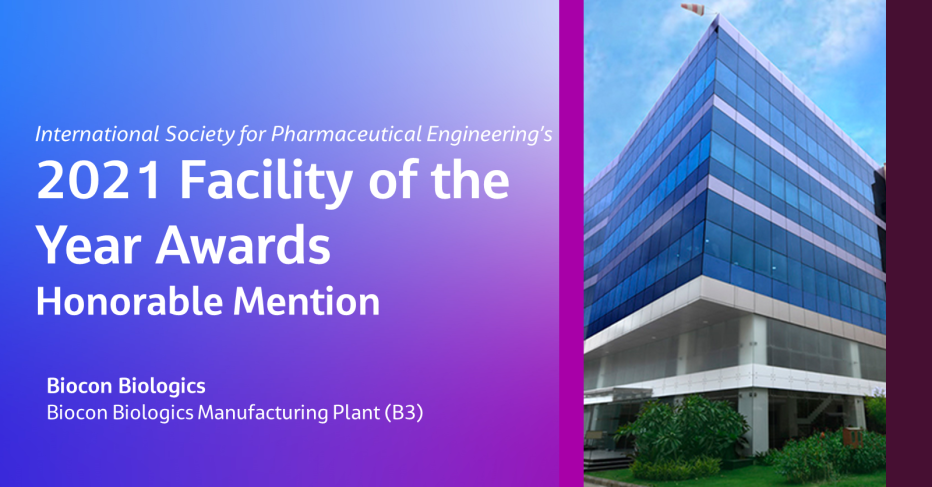 The Biocon Biologics Manufacturing Plant (B3), the newest addition to the biopharmaceutical company's 100-acre Biocon Park in Bengaluru, India, is no small achievement.
Stretching 340,000 square feet and costing $120 million (USD), it is now the largest monoclonal antibodies (mAbs) facility in India in size and investment.
Despite this size and complexity, Jacobs fast-tracked the project and helped design deliverables to achieve B3's mechanical completion within 24 months of detailed design.
Jacobs also incorporated sustainability in its design, reducing energy consumption and waste. Most importantly, with the increased capacity and operational efficiency the facility provides, Biocon Biologics can offer its products at lower costs.
For all these feats, the B3 facility has received an Honorable Mention for the International Society for Pharmaceutical Engineering's (ISPE) 2021 Facility of the Year (FOYA) awards. In its article detailing the project, ISPE recognized B3 for its sustainability, safety, innovative approach, and alignment with Biocon Biologics mission.
Checking all the boxes
Biocon Biologics came to Jacobs with an ambitious goal and a long checklist. The goal of the B3 project was to build a state-of-the-art facility that increases manufacturing capacity for current products and adapts to future commercial products. A tight focus on supply chain would ensure that B3 expanded product capacity while driving down costs. The facility should also be flexible – it should be able to accommodate different commercial products in the future.
However, operational efficiency would not come at the cost of sustainability – the Biocon Biologics team still wanted the design to consider energy conservation. Biocon Biologics also required that the facility serve as an extension of its campus and integrate utilities from a centralized utility building.
Finally, all these specifications had to be achieved safely, all on-schedule and within budget.
Above and beyond
Shoulder to shoulder with Biocon Biologics, the Jacobs design team got to work. Rather than applying one wholesale design approach, the design team carefully analyzed each element of facility design, equipment selection, and qualification to choose the most appropriate approach for each case.
The result: a multiproduct facility that manufactures, purifies, formulates and bulk fills cell-culture therapeutic products using large-scale practices on a campaign basis. Three floors house everything from administrative and operational office space to upstream and downstream processing and an in-process quality control testing lab. The facility uses integrated planning, in which all spaces are connected yet separated functionally to perform activities independently without interference or cross-contamination.
In addition to operational efficiency, Jacobs built sustainability into its design. All office and meeting rooms face East and Northeast, minimizing heat from the sun while still allowing for natural light – saving lighting energy and reducing HVAC cooling load. The plant also uses a rainwater harvesting tank and an internal zero-discharge effluent water treatment plant to reuse water on site. Additionally, condensate from steam is saved and recycled through the boilers to further reduce consumption.
The Jacobs team optimized equipment distribution and operation to reduce expenses, which could help Biocon Biologics in turn reduce the cost of drugs to customers. Additionally, the facility is flexible – this adaptability allows companies to pivot manufacturing in response to events like drug shortages and health crises. These features align the facility with Biocon Biologics' mission to manufacture affordable, lifesaving and life-impacting products worldwide.
Biocon Biologics is the first biopharmaceutical company from India to receive an ISPE FOYA Honorable Mention. In addition to Biocon Biologics, Jacobs has a long history of serving clients who have been recognized as Facility of the Year award recipients. Since the awards' inception in 2006, more than 15 Jacobs clients have been recognized.