Solving the Climate Challenge through Digital Innovation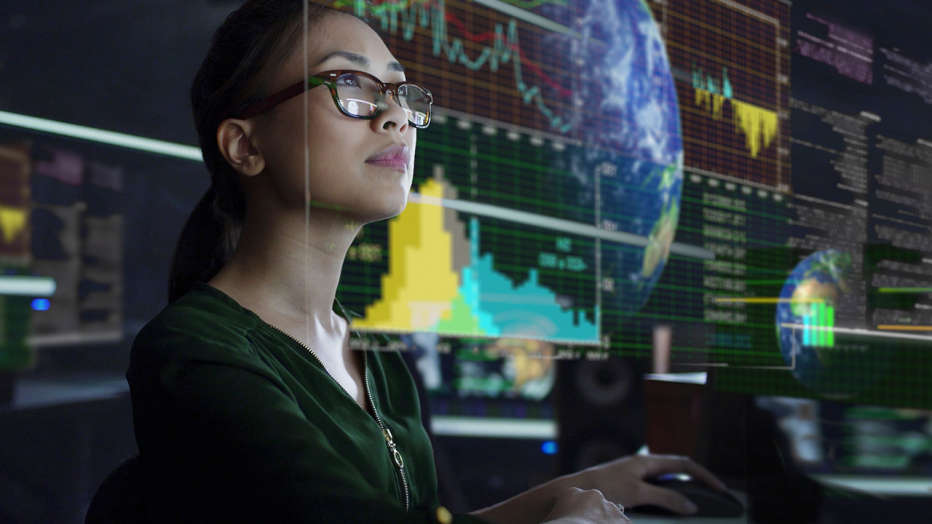 In their article for the Royal Scottish Geographical Society's special COP26 edition of The Geographer magazine, Adam Liddle, Jacobs Director of Sustainable Growth & Innovation, and Adrian Pinder, Jacobs Incubations & Products Director, discuss how innovative, global solutions can help to address the climate challenge.
The global climate emergency is undoubtedly one of the most pressing global issues of our time, and one that requires a real step change in thinking. With this year's COP26 promising to be action focused, it could be the springboard needed to set a different course and bring to the fore some of the most innovative, global solutions to address the climate challenge.
Over the past few decades, we've seen renewable energy solutions emerge and play a key role in reducing consumption of fossil fuels, taking the first steps to address climate change. While investment in cleaner, renewable fuels will continue to grow, there's an emerging opportunity for data, technology and innovation to push even further. If 2020 taught us anything, it's that it's time to think differently about the future — about how we prepare for (and respond to) natural, societal and economic risks. The pandemic accelerated trends with new, transformational technologies becoming commonplace within a matter of months. This now needs harnessing to solve our climate issue.
By 2025, it's forecasted that around 75 billion 'Internet of Things' connected devices will be in use. What could be more effective than harnessing increased access to data to drive digital innovation and create the solutions that will mitigate the impacts of climate change?
Technologies, such as "Climate Risk Manager" are already putting these data points to good use, identifying and highlighting potential future climate threats for businesses and supply chains in ways we haven't been seen before. Climate Risk Manager uses global climate data and location intelligence to create virtual risk assessments, forecasting the impacts of climate change. This allows organisations and governments to understand the immediate and long-term implications climate change may bring and make data-based decisions on how best to invest in guarding against climate risks. As part of our recent company Climate Risk Assessment, we analyzed nearly 100 major projects and programmes across our markets using the Climate Risk Manager tool. Together with our partner CLIMSystems, we developed specific climate models for the locations of the FIFA World Cup Qatar 2022™ and Expo 2020 Dubai.
Similarly, flood simulation tool "Flood Modeller" allows organisations and governments to prepare for the impacts of rising sea levels and increased rainfall on flooding. This is a flood modelling tool that performs the calculations required to predict water levels and flows as a result of rainfall and/or extreme sea levels, hours or days ahead.
Flood Modeller has been used to support flood preventions in Glasgow, the location of this year's COP26. The White Cart Water is a shallow, fast flowing river in the south of Glasgow, which is prone to flash-flooding, with water levels known to rise up to 6 metres, after only 12 hours of rain. Since 1908 more than 20 serious floods have affected properties throughout Glasgow's south side, and in January 1984, more than 500 homes were devastated by flooding.
Flood Modeller was used on the White Cart Water Flood Prevention Scheme to manage its flood risk, ensuring the right preventative measures were implemented to protect 1,750 properties and businesses in south Glasgow from flooding, as well as protecting, complementing and enhancing the natural environment.
Flood Modeller has been used globally, providing benefits in Sydney, Australia. Floodplain modelling was used to simulate fluvial and direct rainfall flooding in a sub-catchment of the Parramatta River ahead of a proposed riverbank regeneration development. The modelling revealed the proposed design could proceed without the risk of increasing flood levels.
Innovative thinking is also being employed to support the energy transition, with technologies like electrolysers and fuel cells being developed, as well as new processes to synthesize hydrogen emerging, creating new products and fuels.
In the UK hydrogen hubs are in early design stages, fueled by the demand from energy intensive sectors like transportation. And in mainland Europe energy parks are being proposed, bringing industry and large commercial properties together to manage distributed energy resources through Power to X (the processes that turn electricity into heat, hydrogen or synthetic fuels) and digital capabilities. While there are significant commercial and technology challenges to energy hubs and parks, the direction of travel and opportunity is clear.
New technology innovations will prove critical to solving the world's climate crisis. We can no longer just create ideas; we now need to test, implement, and drive value through innovation. Organisations and governments all have a role to play in applying digital solutions to create the momentum needed to monitor, manage and address the climate emergency. If we can replicate the speed of technology take-up seen throughout the pandemic, there is real promise in data and technology becoming the key to solving the existing climate crisis, at both a local and global scale.