Q&A: Talking with Emily King, Global Technology Leader, Social Value Advisory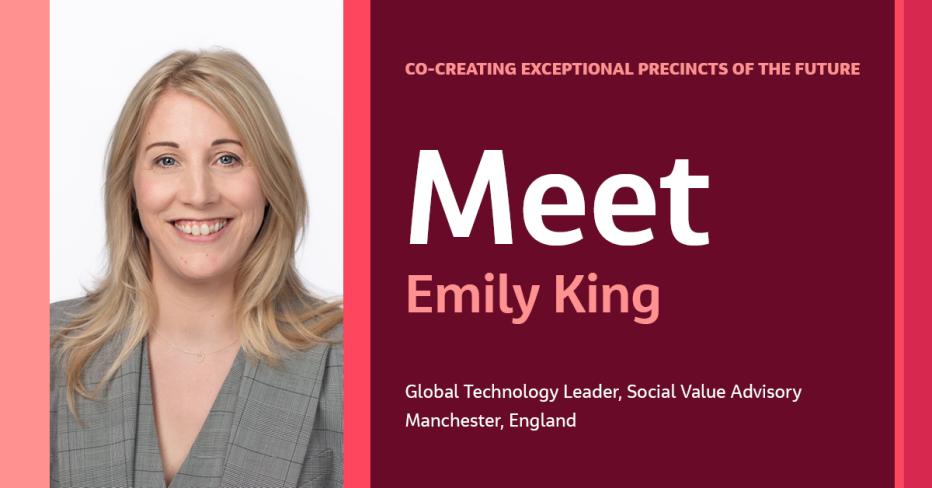 How can we create exceptional spaces that transform the way we live, work and play? How can we build smart, sustainable, and climate-resilient precincts of the future? How can we design spaces that foster liveable, connected and inclusive communities and deliver lasting social value?
Our visionaries at Jacobs are asking these bold questions today to reinvent built environments and shape our society, economy and environment for generations to come.
For our "Co-creating exceptional precincts of the future" series, we caught up with our Global Technology Leader, Social Value Advisory, Emily King, one of our visionaries challenging the status quo to co-create precincts of the future.
Tell us a bit about your background and current role at Jacobs.
I began my career in academia and then had a stint in the industry before starting as an Environmental Consultant with Jacobs in 2005. After three years at Jacobs, I joined ERM as a Sustainability Specialist and settled there for nine years before returning to Jacobs in 2016.
In my latter years at ERM, I branched into socio-economic assessment, focusing on product supply chains and occupational exposure. So, when a position for a socio-economist appeared on the Jacobs LinkedIn company page, I saw my opportunity to return to Jacobs. I still had lots of friends to come back to and could see that the business supported women to grow into leadership positions.
Today, in my role as Global Technology Leader, Social Value Advisory, I lead Jacobs' innovative social value advisory solutions, employing techniques such as co-design to better understand community needs and measurement frameworks to help clients and projects evaluate social value outcomes.
What sparked your interest in this field? Are you where you thought you'd be?
I've been interested in the environment from a young age, and as a pre-teen, I had campaigned against Chlorofluorocarbons.
Looking back, environment and sustainability have been at the heart of my professional development, and I've delved into subjects ranging from product sustainability to environmental due diligence to human toxicology. So, working as a social value specialist is no real surprise as this field ties together the various elements of sustainability that I've been involved in over the years.
What's the favorite part of your job?
Successfully finding workable solutions for colleagues and clients. Being part of a close-knit and energetic team and a dynamic, forward-thinking organization.
What has been your proudest career moment to date?
Seeing my direct reports get promoted – I've seen three of my reports through two promotions each, over the last four years, and I take enormous pride in their growth and success.
From your perspective, what does a "successful" precinct project or program delivery look like?
Delivery of an urban space that's accessible to all and promotes health and wellbeing while furthering innovative solutions to some of our biggest environmental challenges.
From your perspective, what are some of the key considerations that help drive successful precinct projects and programs?
Collaboration and hearing as many voices as possible are essential. Often the voice of the community is ignored, but cognizance of people's lived experience can make the difference between success or failure of a project or program.
Thinking about legacy from the outset is also important; then embedding this thinking as a golden thread to ensure we're making decisions that optimize the broader benefits for society and the environment.
Emily and her daughter Amie...
...celebrating Holi, the Hindu festival of colors, in Manchester.
If you aren't working, what would we most likely find you doing?
Running around after my kids!
People would be surprised to know that…
I worked as a Jillaroo in the Australian outback, rounding up the beasts and repairing the boundary fences. Character-building work!
What do you enjoy most about being part of #OurJacobs family?
We all treat each other with respect and understanding, and we know how to keep it fun!
Get in touch with Emily King onLinkedIn.
Join #OurJacobs team
What drives you drives us as we work to build a better world – together. At Jacobs, every day is an opportunity to make the world better, more connected, more sustainable.
We're always looking for dynamic and engaged people to join our team. Bring your passion, your ingenuity and your vision.Let's see the impact we can create, together.