Q&A: Talking with Chris Walker, Global Principal - Integrated Urban Sustainability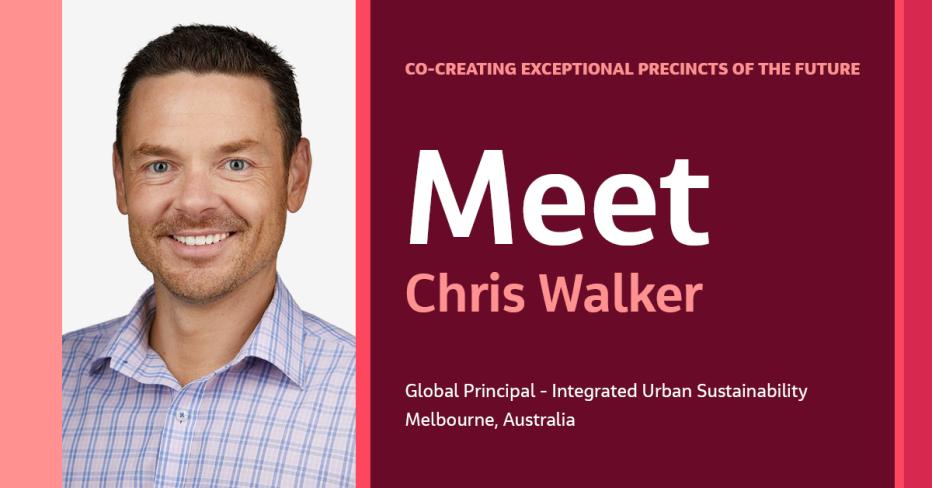 How can we create exceptional spaces that transform the way we live, work and play? How can we build smart, sustainable, and climate-resilient precincts of the future? How can we design spaces that foster liveable, connected and inclusive communities and deliver lasting social value?
Our visionaries at Jacobs are asking these bold questions today to reinvent built environments and shape our society, economy and environment for generations to come.
For our "Co-creating exceptional precincts of the future" series, we caught up with our Global Principal - Integrated Urban Sustainability Chris Walker, one of our visionaries challenging the status quo to co-create precincts of the future.
Tell us a bit about your background and current role at Jacobs.
I'm the appointed Global Principal - Integrated Urban Sustainability.
I've spent the past 14 years working in various facets of the environmental and sustainability sectors. With a background and training in environmental science, I've added to these skills with an extensive career in building and infrastructure design, construction and operation, with a focus on sustainable materials, energy and water efficiency, and user health and wellbeing. With this experience, I've built a unique set of skills that complement and enhance the delivery of holistic and innovative sustainable design solutions. I'm also a Green Star Accredited Professional (GSAP).
I have a keen interest in three key areas: decarbonization and energy transition; improved city livability through advancements in urban sustainability outcomes – for example, cognitive city strategies and the mitigation of the urban heat island effect; and the changing trends in mobility, and how we interact with the places we work, live and play.
What sparked your interest in this field? Are you where you thought you'd be?
I guess I'm not where I had planned to be at all. I originally qualified as a Marine Biologist, endlessly fascinated by the wonders of nature and the marine environment. I then grew a desire to have a positive impact on the built environment to improve sustainability outcomes for buildings and infrastructure throughout the cities we live in.
What's the favorite part of your job?
The inspirational people I meet daily.
The world and our Jacobs projects are full of challenges, abundant ideas and innovation. I love playing a role in sharing those stories and knowledge globally and having a positive impact on the projects I contribute to.
What has been your proudest career moment to date?
The work Jacobs is currently delivering across multiple public transport infrastructure projects has presented us with an opportunity to rethink how Australian cities are designed and function.
Public transport can not only improve precinct connectivity but also deliver exceptional productivity and liveability outcomes for the community. A robust sustainability strategy covering infrastructure and precinct design, construction and operation are key for realizing these opportunities, and I'm proud to play a role in developing these strategies.
From your perspective, what are some of the key considerations that help drive successful precinct projects and programs?
The trend of urbanization is predicted to continue, with more and more of us gravitating towards precincts. Therefore, urban precincts have a significant responsibility to drive the changes in human behavior required to minimize our environmental and social impact and provide us with healthy environments to thrive.
More than ever, there is a need to deliver sustainable precincts that ensure today's prosperity does not hinder the possibilities of tomorrow.
Future precincts must have a holistic approach to sustainability to achieve ambitious environmental performance targets and be future-ready for environmental, social, and economic demands. Environmentally sustainable development will reduce resource consumption, protect water systems, future-proof assets and ensure the long-term viability of our precincts.
If you aren't working, what would we most likely find you doing?
I love my sport and the outdoors. So, probably out on one of my bikes, hiking, or ocean swimming.
People would be surprised to know that…
I was born in Singapore. Growing up in South East Asia has given me a unique perspective of life and work in Australia.
What attracted you to Jacobs?
People at Jacobs have a passion for continual improvement and delivery excellence, ensuring the products and services we offer our clients exceed their expectations. I wanted to be part of that drive and deliver exceptional outcomes on our projects.
What do you enjoy most about being part of #OurJacobs family?
The work we're delivering in precinct sustainability looks to optimize the functioning of our precincts and cities as a whole through an integrated multi-disciplinary approach. The openness, knowledge sharing and collaborative approach from our broad discipline make my job enjoyable every day.
Get in touch with Chris Walker on LinkedIn.
Join #OurJacobs team
What drives you drives us as we work to build a better world – together. At Jacobs, every day is an opportunity to make the world better, more connected, more sustainable.
We're always looking for dynamic and engaged people to join our team. Bring your passion, your ingenuity and your vision. Let's see the impact we can create, together.