Moving Forward Together: How a Culture of Inclusivity and Mentorship Creates a Lasting Community Impact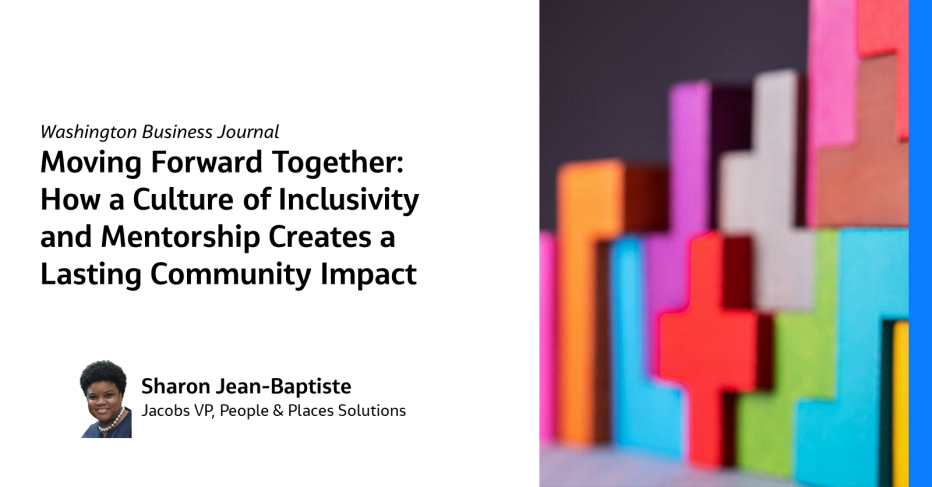 Jacobs Vice President Sharon Jean-Baptiste highlights how the Justice & Sustainability Associates' Construction Management Training Program offered two D.C. area construction management trainees the chance to make an impact alongside our team on the District Department of Transportation's Interstate 295/Malcolm X Avenue Interchange Improvements project.
As an industry, we are constantly pushing the limits of what's possible, embracing new ideas and innovation to shape the world around us. But to create a meaningful impact, we also need to look inward and focus on what we can do to fuel the pipeline with diverse voices and perspectives that reflect the world, and more specifically, the communities in which we live and work. This starts with exploring alternative recruitment and hiring avenues – including building links with community training programs to reach new talent.
The Justice & Sustainability Associates' Construction Management Training Program (CMTP) works closely with minorities and lower income communities to provide training, certification and ultimately career opportunities in construction management and craft labor. The structured program includes professional training sessions and hands-on experience working for contractors on various urban development projects. After the trainees complete the program, they are certified to work in the construction industry.
Through working with lower income communities, the CMTP tackles stereotypes and removes perceived or indeed physical barriers to joining the STEM profession, opening the door to a cohort of ambitious trainees.& For these trainees, the program is about more than just gaining successful employment, it is about changing their circumstances so they can have a better future. It empowers trainees to shape their own future, providing a pathway to a career they might not have imagined possible, and in turn it empowers organizations to embrace the power of new and diverse perspectives to solve complex challenges. At the same time, the program enables companies to contribute positively to structural change within broader society by reinforcing the importance of inclusion and diversity in the workplace. We are proud of our efforts to not only improve the physical features of the neighborhoods we work in, but also invest in the people who live there.
We know our business benefits from a diverse workforce and our people benefit from an inclusive environment where each individual is empowered to bring their unique perspective and experience to work every day. It's a win-win and at Jacobs, we're privileged to be reaping the rewards. We hire CMTP trainees as full-time employees to ensure candidates get the full benefit of the program and learn the necessary skills to progress their careers. This means we can fully immerse them in active projects while helping them graduate the program.
In Washington D.C., two CMTP trainees joined us in our work on the District Department of Transportation (DDOT) Interstate 295/Malcolm X Avenue Interchange Improvements project.
The project seeks to reduce rush-hour congestion for northbound commuters along the 1.34-mile section of Interstate 295 (I-295) in the District of Columbia by replacing a single ramp in the cloverleaf interchange with a new access road 0.7 miles south of the original interchange along with the installation of a traffic signal allowing controlled movements and improved interstate access to both the Department of Homeland Security headquarters and Joint Base Andrews-Bolling as well as providing full access to I-295 southbound from Malcolm X Avenue. In addition, the project also provides 1.3 miles of dedicated hiker/biker paths and extensive drainage, storm water management, low impact design water treatment basins, and extensive landscaping in the area. It aims to improve the quality of life for both residents and visitors with minimal impact on the environment.
Paul Brown and Alvin Edon, both from South East DC, Ward 7 and 8, joined as construction inspectors in 2019.
Guided by project manager and mentor Charles Thomas, Paul and Alvin played a significant role on the project, demonstrating an eagerness to learn new skills and progress their careers.
Alvin described his experience working on the project as "life changing" adding that it opened his eyes to "a world of how things are built".
"I never imagined myself working in the construction field but after completing the construction management training program and obtaining a job with Jacobs, I now have four certifications and I'm currently studying for more. This is just the beginning of my learning experience and I'm looking forward to working hard and learning everything I can to become a great inspector for my next project."
Paul expressed a sense of fulfillment in working on a project that contributes positively to the city in which he lives.
"My experience working on this project has been both exciting and challenging. Every day you are being pushed to learn and improve. I'm grateful to be chosen to be a part of something so important in my city and knowing that this will impact people's everyday lives in a positive way."
As well as gaining valuable experience, the program and subsequent employment also enabled Paul and Alvin to make positive changes in their personal lives, affording Alvin the opportunity to move to a neighborhood more suitable for his young children.
Paul and Alvin serve as a shining example of how a culture of inclusivity and mentorship can have a positive impact not only on projects and clients, but on colleagues and communities.
Our hope is that this success will inspire other companies to engage with similar programs and encourage more candidates and future generations to follow in Paul's and Alvin's footsteps.
Article originally published in the Washington Business Journal.