Supporting Delivery of the Elizabeth Line
The most significant addition to London's transport network in a generation.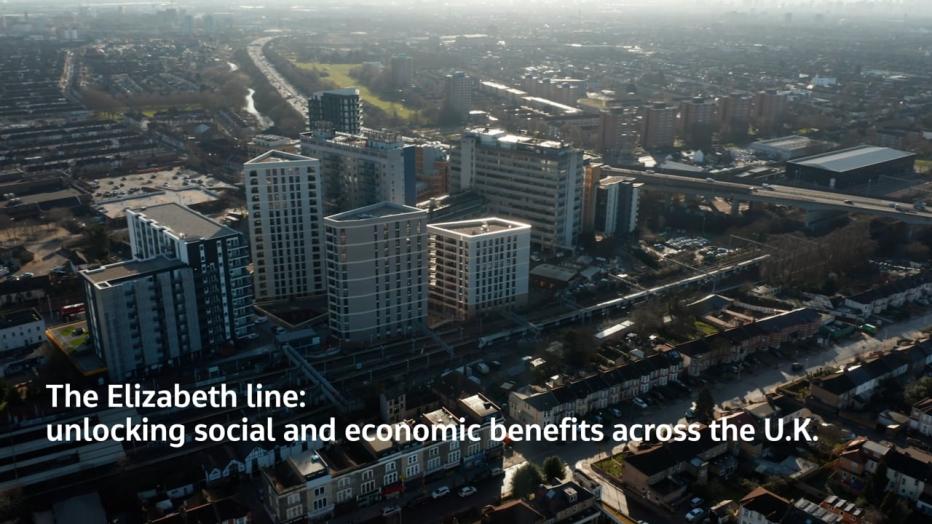 Our relationship with the Crossrail project goes back a long way. We've provided a range of key services since 2001, when Crossrail Ltd was established, including business case development and from 2009 as program partner (part of the Transcend joint venture), program delivery partner and project representative.
The challenge
Overcrowding and lack of capacity of the existing transport network hampered the growth of the U.K.'s dynamic economy. In 2005 when the scheme was being developed, in readiness for Royal Assent, nearly 600,000 people lived within 1km of a proposed Elizabeth line station, of whom 200,000 were living in regeneration areas. The unemployment rate in the regeneration areas was three times higher than in the non-regeneration areas. The economic activity rates in the regeneration areas were also low. The proportion of working-age people in employment was 45%, unlike non-regeneration areas where the employment rate was 65%.
Over two decades of Jacobs support 
We've been involved in the project from planning to program and project management, engineering and construction management, architecture, civil/structural/tunnel and systems engineering, and final stages of completion.
Since 2019, Jacobs has also supported key areas as program delivery lead. We provided strategic program management, program integration, systems integration and engineering, handover and assurance, reliability expertise (from PA Consulting) and organizational transformation consultancy through the last three and a half years of the program. Our services have been an enabler to the critical phases of trial running, trial operations and opening.
Our Project Representative team provided independent technical advice, assurance and oversight of the Crossrail project and the delivery of the new railway. This included challenging assumptions and work, and providing independent, clear advice and recommendations on progress of the project to the sponsors, the U.K. Department for Transport and Transport for London representatives.
We've helped this iconic program transition into The Railways and Other Guided Transport Systems Regulations, perhaps the biggest step in the Crossrail project's journey towards passenger service.
"The Elizabeth line demanded the highest technical standards on major tunneling in urban areas and excellence protecting the assets that we worked under and near. The scale and challenges on the project were a level above what most of the industry had previously delivered."
Learning legacy
The Crossrail project is recognized for its complexities, including the tunneling and the integration of around 500,000 individual physical and digital assets. Our people were embedded into these teams throughout.
The precise route of the tunnels was chosen after extensive studies and surveys to consider the potential impact on many thousands of buildings above the route, including many listed buildings. The route had to weave around foundations, existing Tube lines, sewers, utilities and other underground infrastructure. At Tottenham Court Road, one of London's most congested underground locations, the route had to be built within a meter of an operational Northern line platform tunnel.
Jacobs helped Crossrail Ltd. establish its innovation program Innovate18 and this has now transferred to the Knowledge Transfer Network to become the basis for the Infrastructure Industry Innovation Portal I3P, where industry innovations can now be registered and shared.
Our program management and integration agility supported Crossrail's delivery strategy, which went on to influence Project 13 – a new enterprise delivery model focused on delivering better outcomes, by bringing together owners, partners and suppliers in more integrated and collaborative arrangements, underpinned by long-term relationships.
These approaches have helped shape the industry and how future infrastructure is designed and delivered. And the lessons learned on the program are now being shared with other scheme delivery authorities during their planning stages of major programs.
"Even before opening, the Elizabeth line has facilitated major regeneration in both east and west London. New direct links and increased public transport capacity has enabled the redevelopment of brown field sites for large scale housing developments."
Enabling regeneration
We advised on the potential regeneration impacts of the program, supporting Crossrail in deciding route alignment and the location of stations in central London and the surrounding sub-regional centers as well as the proximity to regional hospitals and universities.
The Elizabeth line is delivering more than just a railway: The outcome of the program brings an outstanding social value and economic impact. The improved transport links will help in transforming the areas through which it runs – driving development, attracting investment and jobs, and acting as a catalyst for regeneration.
Regeneration benefits
Connecting regeneration areas with centers of employment was crucial to success.
We estimated that the Crossrail project would attract 80,000 new jobs to the regeneration areas, enabling 9,000 unemployed and economically inactive residents along the route to obtain employment.
Outside central London, town centers including Ealing, Woolwich, Ilford, and Romford are booming with new businesses and residents because of the new Elizabeth line. More than 90,000 new homes are being constructed along the route.
The Elizabeth line reinforces London's status as a global city, introducing 300,000 new jobs in key employment hubs.
The agglomeration impacts of the line will bring about employment growth in central areas creating 32,000 to 40,000 jobs by 2026 and other economic benefits amounting to tens of billions of pounds.
The Crossrail project integrated the designs for 12 major property developments to create over three million square feet of high-quality office, retail and residential space.
96

%

of contracts awarded went to companies within the U.K.

62

%

of suppliers were based outside London

c.

75

K

people helped deliver the Elizabeth line

1

K+

apprentices recruited, injecting new talent into the industry
"I am most proud of my involvement in an infrastructure program that has benefited London. The Crossrail project brought many benefits during its construction phase – such as the Crossrail Apprenticeships – but its social legacy will significantly expand on the first day it opens."
One scheme alone within the program has supported more than 1,000 apprentices and more than 40,000 young people have been engaged through the Young Crossrail Programme, going into schools an encouraging take-up of STEM subjects.
"Working on the Elizabeth line opened my eyes to the major projects Jacobs has involvement in and taught me how important communication and realistic deadlines are. I have been able to use my knowledge of signaling and rail on further project opportunities I might not be involved in without the experience."
"The fact that I was able to work on such a huge and high-profile project, one that will have an impact on my daily life as a Londoner, is in itself something to be proud of."
Crossrail is the first project of this scale to consider sustainability from the beginning and embed it into its decision making.
Crossrail and Network Rail used the U.K. Department for the Environment, Food & Rural Affairs (DEFRA) biodiversity accounting methodology to determine the value (expressed as biodiversity units) of habitats lost, enhanced and created because of the project. A target was set to achieve 80% of the possible biodiversity units it identified, and the project is currently on target to achieve 91%. Crossrail's  biodiversity initiatives include:
85 new trees to be planted around 10 new stations.
Air Quality: Crossrail committed to reducing particulate emissions from construction machinery as part of its Environmental Minimum Requirements and was the first U.K. infrastructure project to set out requirements for emissions control on construction machinery to bring about environmental benefits
Resource Management: The Elizabeth line construction generated over 7 million tonnes of excavated material, of which over 98% was beneficially reused. Crossrail also required construction contracts to monitor the volume of water used during construction and water use best practices are now shared as a learning and benchmarking resource.
Energy Efficiency and Carbon: Crossrail's Carbon Footprint model predicts net carbon dioxide emissions from the construction and operation of the railway. Total emissions of carbon dioxide from the construction phase of the Crossrail project are estimated to be approximately 1.7 million tonnes of CO2. Once the line is operational, there will be an estimated annual saving of 70,000 to 225,000 tonnes of CO2, largely due to the displacement of car journeys and replacement of diesel trains on the existing network.
Crossrail's delivery of the Elizabeth line and our combined contribution has created a huge learning legacy of good practice, lessons learned and innovation from the program that's now being shared to raise the bar across industry globally and showcase the value of infrastructure investment focused on better outcomes.
For more, check out our Spotlight here and visit: Crossrail's website and Learning Legacy information.