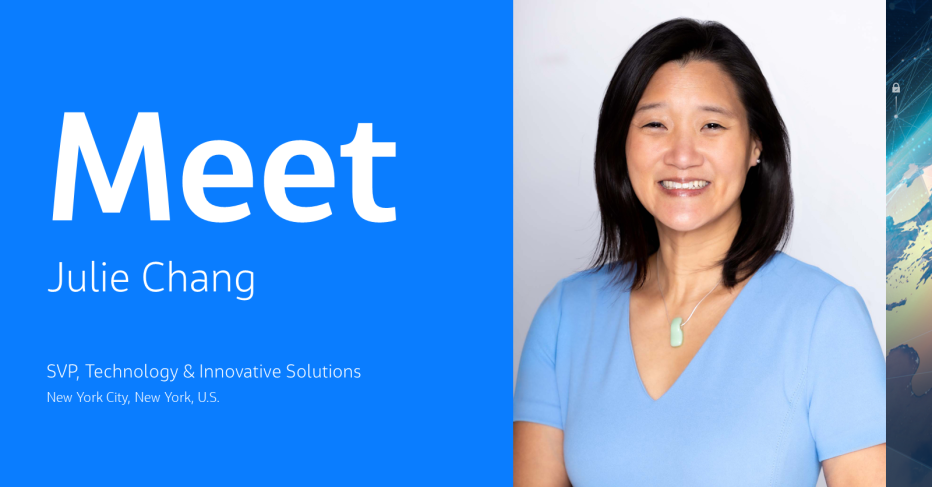 As SVP of Technology and Innovative Solutions, Julie is leading the digital transformation of Jacobs through the creation of a new business unit that applies data and technology-based solutions to protect and create a more connected and sustainable world.
Known for her ability to bring out the best in an organization by aligning passion and purpose with company goals, she is at the forefront of applying data and technology solutions in pursuit of a better future.
Prior to her current role,  Julie was the Advisor to the Chair and CEO of Jacobs. In this capacity, she worked closely with Jacobs' Board of Directors and was an integral part of the 2022-2024 Strategy team which led the development of a first-of-its-kind investor presentation of the firm's three-year strategy that was successfully released to our global investor audience. Also at Jacobs, Julie served as Vice President of the Northeast region overseeing a portfolio spanning from Maine to New Jersey. She led 1,200 professionals delivering client engagements ranging from major climate response and energy decarbonization initiatives, to expansion of regional aviation and rail networks and the build out of healthcare and life science facilities. Previously she was also the Director of New York Operations. Under Julie's leadership the New York office grew to a combined team of over 450 professionals providing consulting, planning, design and construction management services for a host of New York and regional clients.
"I love to learn and am honored to have the chance to create with others. You pair that with our purpose of creating a more connected and sustainable world, and it's guaranteed to deliver moments of awe, inspiration and gratitude."
Prior to joining Jacobs, Julie was the NY General Manager for Sam Schwartz, an engineering, planning and consulting firm. Julie also launched the climate resilience practice and was a Chief Economist providing consulting services around the globe in China, Malaysia, Singapore and Morocco for more than a decade with Ecology and Environment Inc. and Waterfield Portola. 
Julie serves on the Boards of Sustainable Westchester, the New York League of Conservation Voters, and the Diversity Equity and Inclusion Committee for ACEC NY. She is an active participant in McKinsey's Advancing Women Executives program and is a mentor for the Jacobs Careers Network. She holds an MBA from MIT Sloan and a Bachelor of Arts in International Relations from Tufts University. Julie lives in Pelham, New York with her husband and three sons. She recently signed up for her town's food waste recycling program and is very pleased to be diverting waste from landfills.
1992

The year Julie was introduced to the concept of sustainable development and the role an individual can play as a global citizen.

530

Number of hours she has volunteered to support environmental and sustainability groups as an advisor and Board Member.

11

Formal and informal women's mentor and leadership groups she has either formed or been part of

3

Her bedrock reasons to continue to persevere in the pursuit of a better future for her kids
You might also be interested in: