Q&A: Talking with Victoria Johnson, Americas Social Value Practice Leader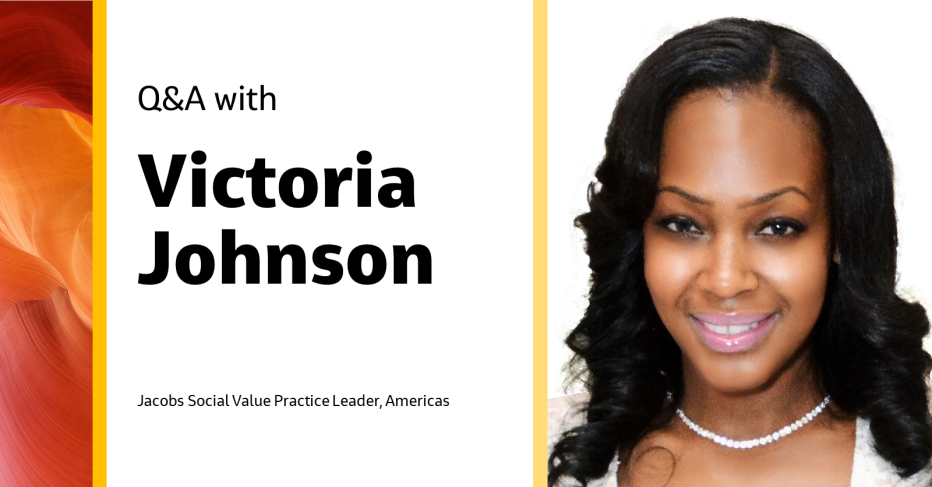 Victoria Johnson is Jacobs Social Value Practice Leader for Strategic Consulting in the Americas. She is a proven equity champion and executive advisor to infrastructure leaders, stewarding a solid portfolio of work demonstrating how Jacobs delivers innovative multi-discipline social value solutions. Victoria is an infrastructure and equity champion, committed to positively impacting the diverse communities we live and work in.
Additionally, she's a national speaker and published author on infrastructure and equity best practices. Victoria has leadership roles in national professional societies, including the NCS Industry Recovery Panel where she is advising the Biden Administration and 117th Congress on infrastructure legislation re: the Build Back Plan; the U.S. Environmental Protection Agency where she sits on the environmental justice taskforce; and leadership in the U.S. Water Alliance's National Water Equity Taskforce, the National Association of Clean Water Agencies and Water Agency Leaders Alliance. She also serves on the steering committees for Atlanta's Partnership for Southern Equity and Jacobs' Inclusion & Diversity TogetherBeyond Council.
In honor of International Women in Engineering Day, we're connecting virtually with our team of engineering heroes around the world to showcase their careers and how each of them help Jacobs to live up to our promise of Challenging today. Reinventing tomorrow.
For this feature, we talked with Victoria about her career, the role equity plays in infrastructure and hanging out with her father.
Tell us a bit about what you're working on these days.
I am working on building a new social value and equity practice in the Americas to grow our portfolio of projects where we work in partnership with our clients to envision, shape and steward more inclusive, people-centered infrastructure. In partnership with our new global social value leadership team led by Global Technology Leader Emily King. I'm collaborating with fellow practitioners to operationalize social value throughout Jacobs enterprise.
What's your favorite part of your role?
Working with our clients is what I enjoy most about my role. It's a privilege to work hand-in-hand with public and government officials to steward and shape infrastructure through a fair and equitable lens to ensure everyone benefits. I also enjoy working across sectors and disciplines with multiple stakeholders to leverage diverse skillsets and perspectives.
We're publishing this article in honor of International Women in Engineering Day and this year's theme is Engineering Heroes. Who are some of the heroes who inspired you to pursue a career in STEAM?
Attending Purdue University exposed me to a variety of careers in engineering in civil, electrical, mechanical and aeronautical engineering. Aeronautical engineers Neil Armstrong and Buzz Aldrin are our most notable alumni (#BoilerUP!), along with the six founders of NSBE: the National Society of Black Engineers founded at Purdue in 1975.
I have fond childhood memories of NASA Astronaut Mae Jemison as the first black woman to travel into space. Today, I am inspired by several female engineers: Deryl & Cheryl McKissack of Mckissack & McKissack; Chief Operating Officer & Executive Vice President of DC Water Kishia Powell; General Manager of WSSC Water Carla Reid; and General Manager of City of Tallahassee Underground Utilities & Public Infrastructure Department Raynetta Marshall. Each of these women demonstrate amazing expertise and leadership.
When you think of engineers or engineering as a hero, what does that mean to you?
Engineering heroes are professionals who design with the community in mind, blending technical expertise with vision and purpose to positively impact everyday people.
If you aren't working, what would we be most likely to find you doing?
I enjoy hanging out with my father. The pandemic has allowed us to spend more time together. He is a great cook and I try my best to perfect his recipes!
Most interesting career moment?
Working on Phase 1 of the California High-Speed Rail Project stands out as a great moment. I am originally from California and spent time working on the project before relocating to Atlanta. I worked for Samsung Engineering at the time and spent time with stakeholders and our joint venture partners Jacobs and Dragados along the route in Los Angeles, Sacramento, Fresno and Bakersfield. It was a great experience and I'm glad to be a part of the Jacobs team today.
What would you rate a 10 out of 10?
Fellini's Pizza in Atlanta. It's a small local business with a few locations throughout the city. It has the best pizza hands down!
Most proud career moment?
Speaking on Capitol Hill during U.S. Infrastructure Week in 2019. I was invited to a Congressional briefing to discuss the role infrastructure plays in employing and creating diverse careers for Americans. It was a privilege to meet with our federal legislators to influence and inform public policy.
What advice would you give to young professionals?
I encourage young professionals to lean in, speak up, ask questions and have a plan. Challenge yourself and the decision makers around you to work collaboratively and with greater purpose. These are the keys to achieving your career goals while positively impacting those around you.
People would be surprised to know that I….
am a Daddy's girl. My father and I have been very close since I was born. We hang out, cook and watch old westerns together. Although I'm an adult, I am still "Daddy's little girl."
What do you enjoy most about being part of the Jacobs family?
Jacobs' global footprint, diverse projects and multi-discipline team keeps work interesting. Working for a company with vision and willingness to challenge the accepted sets us apart, and adds purpose and intention to our work.
Join #OurJacobs team
What drives you drives us as we work to build a better world – together. At Jacobs, every day is an opportunity to make the world better, more connected, more sustainable.
We're always looking for dynamic and engaged people to join our team. Bring your passion, your ingenuity and your vision. Let's see the impact we can create, together.